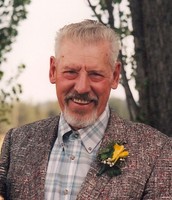 Robert L. Jordan
September 30, 1921 ­ February 14, 2016
Resided in Coeur d Alene, ID
Obituary
Robert (Bob) Jordan passed peacefully February 14th at age 94. Born September 30th, 1921 in Cambridge City, Indiana, he worked from an early age to support his mother and two brothers due to his dad's death. In January 1942 he enlisted in the Army Air Forces. Transferred to Hamilton Field, CA Bob worked in communications as operator, maintenance, inspection and attended formal training to send and receive Morse code. While in Washington state for military training he met Barbara. They were married in Moscow, Idaho December 14, 1942.
With an honorable discharge and rank of Staff Sergeant, December 1945 he rejoined Barbara in Pullman, WA and quickly returned to civilian life. Within two years he was president of the Pullman Jaycees, member of the Loyal Order of Moose Lodge, member of the Chamber of Commerce, member of the American Legion, member of the NRA and had purchased a home. Working as a maintenance tech for Montgomery Wards, he accepted a company transfer to the Coeur d'Alene store in 1952. Purchasing a home in Dalton Gardens, he held a second job maintaining electronic equipment at a local business. Bob started his Masonic apprentice June 1952 and by December was a Master Mason. In 1955 he landed a job with Kaiser Aluminum in the electrical shop. Starting his own TV repair business to supplement income, he continued to work part time at the local electronics repair shop while commuting to Kaiser in Spokane.
In 1962 they purchased a new home at the base of Canfield Mtn. With seven kids in school mom went to work to help with the additional financial burden of this purchase. Dad's goals were to clean the hillside of dead timber reducing fire danger and supply fire wood, build a barn to store tons of hay until it was used or sold, accumulate livestock to support the family and plant a large garden. May of 1968 Bob was elevated by the Scottish Rite to the sublimed 32nd degree and then in 1975 was admitted to the Nobles of the Mystic Shrine of Lewiston, Idaho.
1978 brought a new opportunity when he was offered a job that allowed him to leave the stress of Kaiser, experience a new frontier and wind down a very long, difficult working career. Bob started a new job as maintenance supervisor in Alaska for the operator of the Trans­Alaska oil pipeline. Alyeska Pipeline Service Company incorporated a field schedule. Working one week on, one week off, he could experience the outdoors he loved and Alaska has to offer. He would stay there five years before retiring in 1983.
Dad liked to take RV road trips, fly fish, hunt and knew the back roads of the Coeur d'Alene and St. Joe National Forest like the back of his hand. He was an expert marksman and gun smith. He maintained a life long membership with the Masons, American Legion, NRA and for at least 50 years, membership to the Elks. There he was awarded multiple certificates over several years for outstanding service and officer of the year.
Preceded in death by his wife of 68 years, Barbara in 2011, he leaves seven children, Robert: Pleasanton, CA. Barbara: Lancaster, CA. Patty: Coeur d'Alene, Dave: Coffeyville, KS. Steven: Tiekel, AK. Scott: Coeur d'Alene, Kathleen: Seward, AK . A Memorial Service will be held be Saturday March 5th at 10:00am at the Yates Hayden chapel located 373 E. Hayden Ave, Hayden, Idaho. A reception to follow will take place at the Shrine event center on Lancaster Rd. In lieu of flowers donations may be sent to the Shriner's or Shriner's Hospital.
From Yates Funeral Home, Coeur d' Alene Chapel & Crematory, Coeur d' Alene, ID