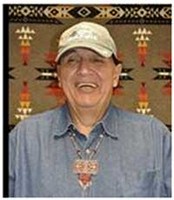 Jerry Arca, Sr. (1937 - 2013)
Obituary
Former Juneau resident, Jerry Arca Sr. passed away on March 8th, 2013 at his home in Potlatch, Washington, he was 75 years young. He was a Skokomish Tribal member, born in Shelton, Washington on April 10, 1937, the son of Georgia Jean (Sparr) Arca and Ernest La Clair.
To say Jerry grew up is a bit of an exaggeration. He was young at heart, with a unique sense of humor. He was a mountain of a man with a gentle soul, a man who lived life to the fullest, and enjoyed each moment.
Jerry enlisted in the United States Marine Corp and ultimately was attached to Force Recon, he was a Vietnam Veteran. Upon exiting the Marine Corp., Jerry held numerous jobs. He worked as a Commercial Fisherman/ Diesel mechanic "F/V St. Peter Captained by Ronald John Sr. and the F/V Largus Captained by Ronald John Jr. Jerry worked as a Heavy Machine Operator/ Welder on the Alyeska Pipeline; he worked for Tlingit and Haida Central Council's Private Industry Council. He worked for various other Tribal Agencies throughout the years. Most recently, he was employed as a Fitness Coordinator for the Skokomish Health Clinic. Which he felt was one of the best jobs he's ever had.
His love of music branched out to playing instruments such as the Mandolin, Guitar, and Harmonica. As well as traditional drum and Flute, and of course Karaoke, which friends renamed "Jerry'oke Time". His favorite songs to sing were Johnny Cash, Elvis Presley, Ray Charles, Willie Nelson, and Frank Sinatra.
Services were held on the Skokomish Indian Reservation on March 15, 2013 at the Skokomish Long House. Jerry is survived by his Children, Grand children and many Great-Grandchildren. Also, by his Brother Mike Sparr and wife Lola, Cousin Denny Hurtado, as well as numerous cousins, nieces and nephews. He loved his family and will be missed.
Published in The Juneau Empire on Apr. 10, 2013