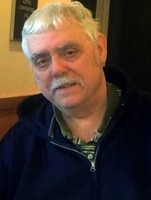 Oscar Herron (1950 - June 12, 2016)
Obituary
Born to Leo and Louella (Corley) Herron on March 26, 1950, in Phoenix, Ariz., Oscar was raised in Issaquah, Wash. He graduated from Issaquah High School and took several courses through the University of Washington. He served in the United States Army at Fort Rucker, Ala., from 1971-1974. He moved to Alaska, in 1981, after meeting his wife-to-be while visiting the state.
He was employed with Alyeska Pipeline Service Company before beginning his 15-plus year career with the Municipality of Anchorage. He spent his free moments with his wife and family fishing, camping and traveling throughout Alaska's great outdoors. A proud member and former President of the Mountain View Lions Club, he served on many committee's and positions throughout his 35 year membership and traveled frequently to conventions worldwide.
Oscar was preceded in death by both of his parents; and his sister, Charlene Lisenbee. He is survived by his wife, Susan; daughter, Tina (JR Clewis); grandchildren, Jessica (Jesse Gregory), Kaitlyn, Samantha (Collin Gardner), Aubriana, Nathaniel, Elliana, Braeden and Malachi; great-grandchildren, Angelo, Melissa, Lovlina, Clifton, Jace, Reilly, Kinleigh, Dawson, Myllo and Kayvian, and another great-grandson due this August.
Burial is to be held at 12 p.m. at Fort Richardson National Cemetery on Friday, June 24, 2016. Arrangements are with Janssen's Evergreen Memorial Chapel. For those wishing to attend, please meet at the gate to line up for escort in procession to graveside by 11:45 a.m. A potluck Celebration of Life will take place on Saturday, June 25, 2016, at the Mountain View Lions Club from 12 p.m. - 2 p.m. Any donations in Oscar's memory can be made to the Mountain View Lion's Club at P.O. Box 140167, Anchorage, AK 99514.
Published in the Alaska Dispatch News on June 22, 2016