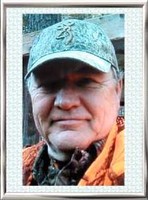 Gary Thomas Reynolds
(1952 - 2016)
Gary T Reynolds, age 63, of Lead Hill, Arkansas, passed away Sunday, June 26, 2016, at his home. He was born July 29, 1952, in Harrison, the son of Thomas E. and Anna Mae (Wilson) Reynolds. Gary loved hunting, fishing, Chevy Camaros and Buddy J. Beagle. His occupation as a welding inspector took him many places. He also was a handyman/carpenter.
Gary was preceded in death by his father, Thomas E. Reynolds; his wife, Thressa (Brannon) Reynolds, whom he married June 20, 1973; and a great-nephew, Aiden Carter.

Gary is survived by his mother, Anna Mae Reynolds; two sisters, Judy Baker, Regina Jennings and husband Dave; a brother, Robert Reynolds; his nephews, Sean Adams and wife Amy, Jeff Adams and fiancé DeDe Cline, Randy Savage and wife Sherie and Ty Savage and wife Janice; his niece, Sissy Carter and husband Nick; his great-nephews, Nicholas Adams, Jacob Adams, Jaxon T. Savage, Landon Savage, Jackson C. Savage, Jacob Savage and Legend Savage; and his great-nieces, Sydney Savage, Catelyn Mae Carter, Savannah Adams, Abby Mae Adams, Grace Adams and Alyssa Hill.

A celebration of life visitation was held Thursday, June 30, 2016, at Roller-Christeson Funeral Home.
From Roller-Christeson Funeral Home, Harrison, AR
Published by HarrisonDaily.com on June 28, 2016