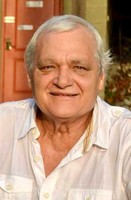 David "Newt" Michael Fletcher
Age 65
Of Riceville
Passed away Thursday, June 30, 2016
At his home.
A native of Kingsport, TN., he lived most of this life in Valdez, Alaska and had resided in Riceville for the past 10 years. He was a son of the late James Darnes and Martha Lou Fox Fletcher. He was a veteran of the U.S. Air Force for seven years, serving during the Vietnam War. David retired from Alyeska Pipeline Service Company after 30 years and he loved camping, hunting, fishing, golfing, and playing softball. He was of the Baptist faith.
Survivors include his wife, Teresa Ann Cofer Fletcher of Riceville Two daughters and sons-in-law, Jennifer and Michael Brown of Riceville April and Jimmy Givens of Niota Two sons and one daughter-in-law, James and Lachelle Fletcher of Riceville Matt Fletcher of Chattanooga Nine grandchildren: Logan, Madison, Cody, Brently, Brayden, Alyssa, Shooter, Emma, and Jesse One brother and sister-in-law, Joseph and Soraya Fletcher of Texas Special friend, Kevin Bohlmann Several nieces and nephews.
Memorial services will be 7 pm Saturday in the chapel of Ziegler Funeral Home with the Rev. Garry King officiating.
Posted on June 30, 2016 by Ziegler Funeral Home, Athens TN
Posted on The Daily Post-Athenian.com on July 4, 2016
(Photo not from Obituary but used with permission of Teresa Fletcher.)