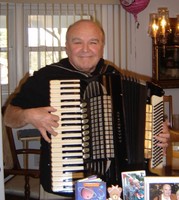 Ronald G. Wolk, Sr.
July 1, 1938 - October, 19, 2016
Age 78, of Canfield, OH, formerly of North Canton, OH and McKeesport, PA, on October 19, 2016, surrounded by his family. Beloved husband of Betty Jane (Stanley) Wolk for 56 years; loving father of Ronald G. (Lisa) Wolk, Jr., Cynthia L. Wolk (Ron Werner) and Brian J. Wolk; cherished grandfather of Haven and McKenna Wolk. To say that he was an accomplished musician and incredibly successful business professional barely scratches the surface. A founding member of "The Café Boys" Polka band back in the early-mid 50's, Dad fronted the band and played a mean accordion. He had a deep-seated passion for the music and loved playing in the same music community that featured Dick Contino, Johnny Vadnal Orchestra, Sam Pugliano and Frankie Yankovic & His Yanks. We recall many an evening where Dad played his favorite Polkas, Band Marches and other personal favorites as loud as that ol' Magnavox stereo could play them.
His passion for music enabled him to fund his education at Carnegie Tech where he graduated with a Bachelors Degree of Science in Electrical Engineering - the first in his family line to do so. He went on to apply his intellect as an Engineer working on the United States government's successful and Top Secret Neutron Bomb development and testing program on Amchitka Island, Alaska.
Afterwards the family traveled to South America where Dad led the design and build of multiple large-scale tire manufacturing facilities for the Goodyear Tire & Rubber Company. Adventure was Dad's middle name and off we went to Alaska where he helped to design, build and operate the Trans-Alaska Pipeline. The Pipeline originates in Prudhoe Bay, Alaska and travels over three mountain ranges while rising to 4,739 feet at Atigun Pass before arriving safely in Valdez, Alaska 800 miles later. To date the Trans-Alaska Pipeline has transported over 17 billion barrels of oil and is a significant contributor to our Nation's Energy independence. He always felt it important to share these experiences with family and friends.
Dad's real passion was providing for and protecting his family, whom he actively supported in countless ways, including waiting up late for us in "the chair", hiking on glaciers, walking in the woods, playing catch, vacationing, hitting the links, shooting the hoops, treasuring piano recitals, attending various sporting events and generally doing whatever he needed to do to ensure his family was supported, loved and successful. BUT whatever you did…you better be dressed in Black & Gold every Sunday in preparation for the weekly beloved Steeler football game. Many a Sunday was filled with Mom's homemade spaghetti and meatballs, incredible conversation, shouts, celebratory dances and mad terrible towel waving. It was a blessing to watch Dad celebrate multiple Steeler Super Bowl victories in the 70's and a few more since. His love, passion and presence will be deeply missed. Travel safely Dad, we will meet again in Heaven someday where every Sunday is Steeler Country Sunday! Family and friends received on Sunday from 2-4 and 7-9 PM at the Warchol Funeral Home Inc., 3060 Washington Pike, Bridgeville (412.221.3333), where a service will be held on Monday at 11:30 AM. In lieu of flowers, memorial contributions may be made to Alzheimer's Association, www.alz.org
From Warchol Funeral Home, Bridgeport, PA
Published in Pittsburgh Post-Gazette on Oct. 22, 2016