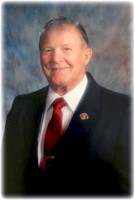 John Freie
December 24, 1926 - March 11, 2017
Longtime Anchorage resident Mr. John "Jack" Henry Freie (Ret. LCDR), 90, passed away on Saturday, March 11, 2017, in Anchorage, Alaska.
Funeral services will be held at 3:30 p.m. on Wednesday, April 5, 2017, at the Anchorage Funeral Home, 1800 Dare Avenue in Anchorage. Masonic Funeral Honors will be performed by the Eagle River Lodge No. 13 with military honors being performed by the JBER Coast Guard Honor Guard. John will be laid to rest with his family at the Highland Cemetery in Great Falls, Mont.
John was born in Malta, Mont., on Dec. 25, 1926, to Alvin W. Freie and Ethel M. (Barker) Freie. He was the third child of seven siblings. The family lived in several towns in Montana, as the family moved around for Alvin's work in mineral mines. The family eventually settled in Belt, Mont., where John graduated from Belt Valley high school.
John was a hard working young man. He was in FFA, and on the basketball and football teams. John chose to serve in the U.S. Coast Guard after being selected for service by the draft. John achieved rank of Warrant Officer. After his tours in Vietnam, John was one of five men selected from the ranks of the USCG to receive a Presidential appointment to rank of LT Commander. John served in the U.S. Coast Guard for 30 years. After retiring from the Coast Guard, John joined Alyeska Pipeline Service Co., as the Senior Quality Assurance supervisor. John worked for APSC for 20 years and retired again. John continued working in his retirement and was instrumental in helping his son, JP with his business.
John loved cars and was a collector of cars. John was an original Mr. Fix-it: he could fix just about anything with a paperclip or a part he made from a used part. He also liked to fish and he would have like to have done more fishing in his retirement. John was a member of the Masons - Eagle River Lodge. He enjoyed serving the community through the projects with the lodge. John was always helping friends and neighbors: if you needed something, John was there to help.
John was one of seven children: Stanley, the oldest brother, perished in World War II; and five sisters, Eunice, Bessie, Cherry, Peggy and JoJo.
John was preceded in death by his wife, Cathy; his father, Alvin; his mother, Ethel; his brother, Stanley; sisters, Eunice, Bessie and JoJo.
John leaves behind his daughter, Susan; and his son, JP; his sisters, Cherry Holland (husband Dick) and Peggy Giles (husband Jack); grandchildren, Kelsey Hamman (husband Cody), Lindsey Larson (husband Nick) and Alyssa Adams; great-grandchildren, Hannah and Holden Hamman; plus many nieces, Cindy, Vicky, Stacy, Erin, Johnna and Marlo; and many nephews, Stanley, Ronnie, Johnny, Michael, Shane and their spouses; and many dear friends.
In lieu of flowers, donations can be made to the Masonic Lodge Eagle River No. 13, P.O. Box 772794, Eagle River, AK 99577.
Please visit John's obituary and online guestbook at www.AlaskanFuneral.com.
Published in Alaska Dispatch News on April 2, 2017