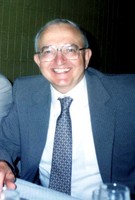 George Schlegel
April 26, 1934 - February 26, 2017
George Schlegel, 82, of Spokane, WA passed away peacefully on February 26 from heart complications at his home. Funeral services will be held on Saturday, March 4th at 2:15pm at St. Luke's Lutheran Church, 9706 N. Division, with internment in Anchorage, AK.
George was born in Black River Falls, Wisconsin on April 26, 1934 to Ernest and Rosa Schlegel. He graduated from Lutheran High School in 1952 in Racine, WI. He served in the US Army and was active duty during the Korean conflict. He married his sweetheart, Marjorie on December 15, 1956 at First Trinity Lutheran Church in Marinette, WI. She was the love of his life and they were married for 60 years.
He worked in accounting and business management for 46 years in the oil industry. He and Marjorie started their life together in Racine, WI and followed job promotions to Tulsa, OK, then Indianapolis, IN, then Charlotte, NC, and his final career move to Anchorage, AK. There he took on the position of Controller /Assistant Treasurer for Alyeska Pipeline Company. He witnessed the completion of the Alaska Pipeline. He retired in May, 1995, relocated to Soldotna, AK where he was closer to one of his favorite pastimes, fishing the Kenai River. In 2004, he moved to Spokane to be closer to his daughter Pamela and grandson Keith. He returned to Alaska every summer to fish the Kenai River and visit his son, Michael and family.
He is preceded in death by his parents, sisters; Judy Richter and Margaret Sorensen of Racine, WI and his step- sister Evelyn and step- brothers Harold and Raymond. George is survived by his wife Marjorie and their three children; son Mike Schlegel and wife Christina, Alaska; daughter Pamela Webber and Park Densmore, California; and son John Schlegel and wife Marija, of Brisbane, Australia. Grandchildren are Ashley Martin and husband Lance, Keith Webber, Benjamin, Alexander, Ethan and Noah Schlegel; great-grandchild Addison Martin, and nieces, nephews, and cousins.
Family was very important to George. He enjoyed family holidays, game nights and watching his youngest grandsons on Skype. He always supported his children and grand- children by attending all their sporting events (even in the rain and snow), scouting activities, and school graduations. He emphasized how important it was to get a good education. He was a devout Lutheran, a Christian who held the Lord close to his heart. He enjoyed his many years as Scoutmaster, hiking the Appalachian Trail, going to National Jamborees, coaching his son's baseball teams, from t-ball through American Legions. His hobbies were woodworking & fishing. He loved to take pictures to document family milestones. When he wanted a good smile, he would often say "show me your teeth!" The cabin on the Kenai River was a special place. He spent every summer improving the property and enjoying going fishing. He would fish until his arm gave out or caught his limit, and more times than not it was his limit. Family was his life.
The family would like to express thanks to the wonderful neighbors who have been supportive during this difficult time. We ask donations in his memory be made to Amazing Grace Lutheran Church, Boy Scout Troop 27, 10955 Elmore Rd., Anchorage, AK 99516. This is the Boy Scout troop of Ben and Alex Schlegel, George's grandsons. He leaves behind the legacy of Michael and Benjamin as Eagle Scouts and Alexander as an Eagle Candidate.
From Hennesey Funeal Home and Crematory
Published March 19, 2017 in Alaska Dispatch News