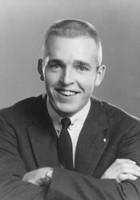 Ivan L Henman
December 15, 1933-March 12, 2017
Ivan LaVoral Henman's family mourns his passing on Monday evening, March 13, 2017, at the Hays Medical Center. His family is grateful for his long and full life, and he will be missed by many for his love and thoughtfulness.
Ivan was born at home in Augusta, Kansas on December 15, 1933. He grew up in Augusta and graduated from the Augusta High School in 1951. During his middle and high school years, Ivan delivered newspapers and was active in school sports. He also worked as a mechanic and parts man for the Allis Chalmers farm implement dealer in El Dorado, Kansas. Ivan was selected as an Augusta representative at the Kansas Boys State during his high school junior year. He attended the El Dorado Junior College for one year before earning an academic scholarship to the University of Kansas. In 1956, Ivan graduated from the University of Kansas with a Bachelor of Science Degree in Petroleum Engineering. He was a member of the Tau Beta Pi and Sigma Tau Honorary Engineering Associations and active in the Theta Tau Engineering Fraternity. He was also President of the Student Chapter of the American Institute of Mining Engineers.
Ivan enlisted in the United States Naval Reserve in 1951. He was subsequently chosen to participate in the Naval Reserve Officer Training Corp at the University of Kansas. He received a commission in the Navy and served two years as a Petroleum Inspector in South America determining quantity and quality of petroleum products at various refineries before purchase by the United States Government. He was honorably discharged as a Lt. J.G. in 1958.
Ivan began his career in the Petroleum Industry in earnest with the Atlantic Refining Company in 1958, as a roustabout and roughneck in the oil fields of southeast Texas. Numerous assignments took Ivan and his family from Silsbee to Houston, Longview, and Dallas, Texas. In 1965, Ivan accepted a job with the Standard Oil Company of Ohio in Russell, Kansas. This assignment led to moves to Oklahoma City; Troy, Ohio; Ephrata, Pennsylvania; Longview, Texas; Cleveland, Ohio; and ultimately to Alaska in 1979, to work with the Trans Alaska Pipeline. He served in various capacities with the Pipeline from Superintendent of the Valdez Marine Terminal to Vice President of Engineering and Projects. He and his wife, Marva, retired in 1991, and moved to Plainwell, Michigan to live close to their daughter, Cheryl Craven.
During his life, Ivan actively supported a number of civic organizations including Junior Achievement, YMCA, and the Junior Chamber of Commerce. He served as the President and on the Board of Directors of the Anchorage Community YMCA for several years. He was a member of the School of Engineering Advisory Council for the University of Alaska Fairbanks.
Ivan was a faithful Kansas Jayhawk fan. During his retirement years, Ivan enjoyed Kansas football and basketball games, gardening, golfing, swimming, and spending time with his family and friends. He organized a traveling golf group to play different courses on Thursdays during golfing season in Michigan. They called themselves the "Lake Doster Doddering Doits."
Preceding him in death were his parents, Perry Wyning and Dorothy Rosalee (McBee) Henman; first wife Janet Sue (Nicholson) Henman, formerly of Ellis; and second wife Marva Beth (Berry) Henman, formerly of Russell; brother Perry A. (Pert) Henman of Wichita; and step-son Monte Woelk. Surviving are his two children, Perry Steven (spouse Robin) and Jacqueline Marie of Ellis, Kansas; two step-children, Cheryl (Woelk) Craven (spouse Richard) of Kalamazoo, Michigan; and Rocke D. Woelk (spouse Lesley) of Greenwood, Indiana. Ivan has six grand-children, Isaac Pert and Sarah Rosalee of Ellis, Kansas; Romy (Craven) Patterson of Macomb, Michigan; Morgan Craven of Ponder, Texas; Dari (Craven) Bargy of Kalamazoo, Michigan; and Tiffany Saxon of Fallbrook, California. Ivan also has nine great grand-children, and a surviving sister, Iris (Henman) Lawrence of El Dorado, Kansas; and a brother Irvin Henman of Towanda, Kansas; and a dear friend and companion, Donna Groninger of Fayetteville, Arkansas.
A memorial service will be held at the Ellis United Methodist Church on Saturday, March 18, 2017, at 11:00 a.m., and a Celebration of Life service will be held this summer in Plainwell, Michigan. In lieu of flowers, memorial contributions may be made to Cure SMA, 925 Busse Rd. Elk Grove Village, IL 60007 or National Fragile X Foundation, 2100 M Street, NW, Washington DC, 20037-1233. These organizations support the health of three great grand-children. Arrangements in care of Keithley Funeral Chapel 400 E. 17th Ellis, KS 67637. Condolences may be sent by guest book at www.keithleyfuneralchapels.com or by email at keithleyfuneralhomes@gmail.com

Published in Kalamazoo Gazette, Mar. 17, 2017