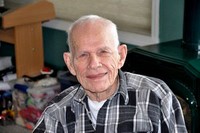 Allen D. Albright
September 21, 1931-April 4, 2017
Allen Duane Albright, 85, passed away peacefully, Tuesday, April 4, 2017, at his son's home in Valdez, Alaska. Allen was born September 21, 1931, to Marvin and Dorothy Albright in Jonesboro, Illinois, the 4th oldest of 10 children. 

With his parents' permission, Allen left home to become a cow puncher on a ranch at the age of 12. When Allen turned 17, he joined the U.S. Army and served six years.
After returning home from Europe, he met the love of his life, Janetta Mae Templeton, and they married in December 1955 at the "Assembly of God" church in Hartshorne, Oklahoma. 

Allen's dream of going to Alaska became a reality in 1975 when he was offered a job on the construction of the Trans-Alaska Pipeline. After retiring from Alyeska Pipeline Service Co. in 1992, Allen and Jan soon moved back to Hartshorne, Oklahoma to enjoy retirement.
He loved to spend time with family and friends playing cards and Allen always had a good story to tell. He also enjoyed going fishing and hunting every chance he got.
Allen is survived by his two sons, Randy and Mary Albright, and Greg and Luba Albright; grandchildren, Jessilin Albright, Lacey and Michael Ace, Nathan Albright, Molly Albright, Allen Albright, and Ksenia Albright; great-grandchild, GraceLynn Janetta Mae Ace; sisters, Linda Taylor, Shirley Dixon and Jan Jarrell; brother, Lyle Albright, and numerous cousins, nieces, and nephews.
Allen was preceded in death by his wife, Janetta Albright; parents, Marvin and Dorothy Albright; sisters, Jean Jones and Joyce Trant; brothers, Bill Albright, Ronald Albright and Jack Albright.

Funeral services will be held on Saturday, April 29, at 11 a.m. with Pastor David Sanchez officiating at the Church of Christ in Hartshorne. Graveside services will follow and afterwards, family and friends can gather at Allen and Jan's home to celebrate his life. 
In lieu of flowers, memorial donations may be given to a charity of choice.
Published April 14, 2017 by McAlester News-Capital, McAlester, OK