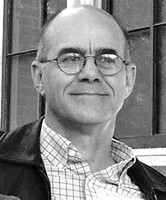 Jimmy Mario Clark
September 13, 1950 - September 13, 2016
Jim Clark died peacefully at home with his family present on Sept. 13, 2016.
In November of 1945, after serving in the Pacific and occupying Japan, Jim's father, Elbert Clark, reenlisted in the Army. After returning to spend a year in the USA, in January 1947 he was then assigned to the U.S. troops who, along with British forces, occupied the city of Trieste. This city and the surrounding region had just been established as an independent territory by the UN Security Council due to extreme tensions between Italy and communist Yugoslavia. It was one of the first "hot spots" along the new Iron Curtain.
While in Trieste, Elbert Clark met and married Liliana Rosa Molinaro, Jim's mother, who had been born and raised in Trieste. Jimmy Mario Clark was born there on Sept. 13, 1950. In March of 1952 the family left Genoa, Italy, by ship, arriving in New York City on March 27.
For the next decade Jim's life was very mobile, as would be expected for an Army brat. From December 1952 to November 1955 he lived in Panama; there his brother, Larry, was born on Jan. 31, 1954. Afterwards, the family moved frequently from one stateside Army base to another, particularly in Missouri and Louisiana where Jim's father's family had lived for generations before. During this time Jim remembered moving at least yearly, once three times during a school year.
This nomadic life ended in 1963 when Jim's father retired from the Army and his family settled in Southwest Louisiana. There Jim attended junior high school, high school, and college, eventually earning a degree in civil engineering in May 1972. On June 17, 1972, he married Deborah Louise Burk whom he had known since junior high and dated during high school.
In 1972 the newly married couple moved to Killeen, Texas, where Jim worked for the Corps of Engineers. While there, their daughter, Amy Elizabeth Clark, was born on Dec. 4, 1974. The new family then moved to Alaska when Jim transferred to the Alaska District of the Corps of Engineers in May 1975. It was during this time, on Jan. 4, 1978, that Deborah gave birth to their son, Brian James Clark. About five years later Jim left the public sector to work as senior engineer for Alyeska Pipeline Service Company, the company that built and operated the Trans-Alaska Pipeline. For some time Deborah and Jim had wanted to live a rural, country lifestyle. After several years of searching, in 1984 this wish led to the purchase of rural property and a home west of Shedd.
Still living in Alaska, Jim was soon offered the position of engineering manager for the City of Corvallis. After accepting and moving, the family arrived at their rural home in October 1985. From there Deborah pursued her advanced education (ultimately earning her PhD); Amy graduated from OSU, and Brian from U of O.
Here Jim would live for the remainder of his life.
From 1990 until December 2002 Jim worked as city engineer for the City of Lebanon. In 2003 he, along with a former work associate, started their own business — GeoSolve Inc. — providing specialized geographic information systems (GIS) services. Considering this the most rewarding part of his career, Jim worked for his business until illness made it impossible.
During his life Jim engaged in many interests: ham radio, fishing, hunting, woodworking, playing guitar, genealogy, cycling, motorcycling, the many facets of being a "gentleman farmer," to name just a few.
After struggling with ALS for several years, Jim died on his birthday, September 2016.
He leaves his wife, Deborah; daughter Amy Wald and son-in-law Aaron Wald of Seattle; son Brian and daughter-in-law Liz of Portland; and granddaughters Lilliana Wald, Wren Wald and Vivian Wald.
Memorial contributions may be given to the ALS Association, Oregon Chapter (www.alsa-or.org).
Please share your thoughts and memories for the family at www.demossdurdan.com.
Published Sept 16, 2016 in Corvallis Gazette-Times