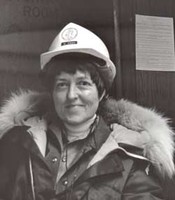 Wilma Knox
1920-2015
Wilma (Didra) Knox was born in 1920 and was raised on her parents' homestead in eastern Washington. She and her husband, Robert moved to Alaska in 1951 where they both worked as a journalists and photographers. Wilma wrote for newspapers including the Anchorage Times and was an Alaska stringer for the Christian Science Monitor. Her article, written for the Associated Press about the after effects of the 1964 earthquake was featured in newspapers across the nation. She also wrote articles for various magazines. With Bob and her sister, Bette, she co-wrote two travel books.
In March of 1975 at the age of 55, Wilma started work as a security guard for NANA Regional Corporation. The job on the line gave her the opportunity to build up savings for retirement, but more than that, she saw it as a challenge for a woman to secure a job on the giant wilderness construction project. Women had never before had such a chance.
Wilma chose to work the Arctic section of the line and stuck with her job all through the construction years. At one time or another, she worked in every camp north of the Yukon River. Wilma also returned to work when the pipeline started producing.
From the beginning, Wilma wanted to write about this amazing experience and kept detailed journals. In her retirement years, she collected all of her journals and letters and started writing a book about her years "on the job." But before she completed the final manuscript at the age of 90, she suffered a series of small strokes and lost her memory. Wilma died in June of 2015.
After her death, Robert completed the manuscript and published it in a limited edition. "Four Years Below Zero" is a very personal account written from a woman's perspective.
It describes the long hours, boring duty, emotional isolation, bitter cold and having to deal with drunks, druggers and grizzly bears. The book is available in many libraries across Alaska.