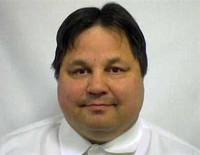 Casey Joseph Ahkvaluk
March 15 - July 23, 2017
Life long Alaska resident Casey Joseph Ahkvaluk, 54, passed away at his home in Anchorage, Alaska, on July 25, 2017, due to natural causes. A memorial gathering will be held in his honor on Monday, July 31, 2017, from 3 p.m. - 5 p.m., at Legacy Heritage Chapel, Angelus, 440 East Klatt Road. A Catholic Mass will be held in Fairbanks, Alaska, in September, at a time and place to be determined.
Casey was born on March 16, 1963, in Fairbanks. He graduated from University of Alaska Fairbanks with a bachelor's degree in business management. He lived in Fairbanks from birth to 1985; in Anchorage from 1985-1988; in Prudhoe Bay from 1988-1989; in Barrow, Alaska, from 1989-1994; and again in Anchorage from1994 till his passing.
His work history included working for Mark Air in Fairbanks and Anchorage, and Anchorage International Airport from 1985-1988; for Arco Petroleum from 1988-1989; for North Slope Borough from 1989-1994; and for Alyeska Pipeline Company from1994 - 2017.
Casey's favorite hobby was flying personal airplanes.
His family said Casey was "a kind, talented gentleman whose friendship was treasured by all who knew and loved him."
Predeceased by his mother, Marcia (Moen) Ahkvaluk in 1976, Casey is survived by his father, Stanley Ahkvaluk; brother, Patrick Ahkvaluk; co-parents, Frank and Betty Johnson and their children, Vicki (Johnson) Giampietro, Dotti (Johnson) Loaiza, Becky Matumiak, James Johnson, Robert Johnson and Dennis Johnson.
In lieu of flowers, the family suggests that memorial donations be made to Brother Francis Shelter in Anchorage.
Casey will be laid to rest at Northern Lights Memorial Park in Fairbanks next to his mother.
Arrangements are with Legacy Funeral Homes in Anchorage.
Published in Alaska Dispatch News on July 31, 2017