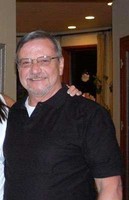 Henry West Irish
June 24, 1951 - September 23, 2017
Beloved father, husband, friend and long-time Valdez, Alaska, resident Henry West Irish passed away, at the age of 66, from complications of cancer. He left this world with dignity and integrity, and with a strong faith in Christ. Henry came into this wonderful life on June 24, 1951, in Woodbury, N.J. Family life adventures began with the Irish clan moving to Alaska in the late '50s, first settling in a colony home in Palmer. In 1961, the family moved to Valdez, the place he called home throughout his life.
During the 1964 Earthquake, Henry and other Valdez students were relocated to the Copper Valley School in Copper Center, Alaska, where he graduated in 1969. During those early years Henry returned home to Valdez during the summer months and maintained a strong connection with his Valdez community and schoolmates from the class of '69.
After graduation from high school he attended St. Louis University, but was soon lured back home with the onset and building of the trans-Alaska pipeline. Henry worked for numerous contractors up and down the line and maintained a long and strong work record during that time working as a Teamster. In 1985, Henry became the proud owner of the "Glacier Bar," which was the perfect fit for his social, gregarious and outgoing personality. His long and sustained relationships during this part of his life continue to this day. His passion for golfing, smoking fish, watching his children play sports, caring for his home and yard and enjoying a round with his buddies, and later in life having a glass of wine, were his simple pleasures.
Family was the most important thing in his life. Henry met and married Shannon Mahoney in 1990, and experienced his greatest happiness with the birth of his two children, Colin and Bridget. Henry made life choices that always put his children first, insuring he was able to modify his work life to stay home and care for them. When he was not working, he was highly engaged in Cub Scouts of America, Valdez Little League, Valdez Gold Rush and coached women's and men's league softball, while supporting many community activities behind the scenes without ever wanting recognition. Henry was a member of the St. Francis Xavier Catholic Church and involved in multiple civic organizations, and was most recently recognized for his years of service to his beloved Valdez community by holding the reign of 2017 King of Gold Rush Days.
Most recently, Henry supported the SERVS Alyeska program, initially working for TCC/LLC, then later as the Vessel of Opportunity Coordinator. He took pride in his work and was passionate about the SERVS mission and protecting the Prince William Sound for future generations.
Henry is survived by his wife and life partner, Shannon Mahoney-Irish; their son, Colin Irish; daughter, Bridget Irish; and his beloved dog, "Sparky." He leaves behind nephews and nieces, Eddie, Christine and Jesse Frank, Bridget Jean and Bernadette Irish, Charlie Holden, Whitney Huleatt, Jake and Claire Mahoney and Ashlee Ronning; great-nephews, Brett, Case and Rhett; and in-laws, Pat and Kathryn Mahoney; Patti and Joe Holden; Tim and Kim Mahoney, Mike Mahoney and Jesse Frank.
Henry was preceded in death by his parents, Phillip and Phyllis Irish; sister, Helen Frank; and brothers, Phil and Ed Irish; niece, Jennifer Irish; sister-in-law, Lora Mahoney; and mother-in-law, Jean Mahoney.
A Celebration of Life Story will be held at the Valdez Civic Center on Saturday, Sept. 30, 2017, at 4 p.m. A mass will also be held at St. Francis Xavier Catholic Church in Valdez on Friday, Sept. 29, 2017, at 5 p.m.
In lieu of flowers, the family requests donations be made in Henry's giving spirit to your local United Way, The American Red Cross, a charity that supports shelter/rescue animals or any charity of your choice
.
Published in Alaska Dispatch News on Sept. 29, 2017