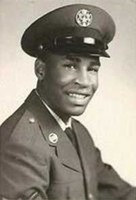 Edward Jefferson Fulton, Jr
May 19, 1947 - April 24, 2017
Edward Jefferson Fulton, Jr., born May 19, 1947 in Columbus, to the late Edward and Helen Clay Fulton, passed away April 24, 2017, at the VA Medical Center in Chillicothe, following an extended illness.
He was a graduate of East High School, class of 1965, where he played varsity football. He also attended the University of Maryland, Sacramento State University, and the University of Alaska.
Ed married Alice Faye Smith of Sacramento, CA, on July 18, 1968 and later became widowed. He served 9 years in the U.S. Air Force, traveling world-wide while on duty and personal leave. In 1968 and 1969, he served in Vietnam. He later lived in Alaska for 27 years and worked for three years in the construction of the Alaska Pipeline.
Ed was employed as a Materials and Logistics specialist, the U.S. Air Force, the U.S. Civil Service, RCA Communications, Alyeska Pipeline Services Co., SOHIO Alaska, Techniglas of Ohio, the City of Columbus and Evergreen Aviation. He was a proud member of the American Legion, the Veterans of Foreign Wars, and the Prince Hall Masons of Anchorage, Alaska.
In Columbus, Ed attended the RAAH Church where he was active in the Arts Ministry, participating in various plays and activities. He also attended Trevitt New Life Ministries, formerly the RAAH Church before moving to Chillicothe. There he became a member of the Church of Deliverance and served as Lead Usher and Amour Bearer. He was an avid community volunteer.
To family, Ed was known as "Cousin Singer". As a child, he was constantly singing so it became his nickname. He is survived by first cousins, Susan Fulton (Ralph) Ridley; a host of second, third, fourth cousins, extended family, and adopted niece, Tonia Brown and sons Tevin and Tyler; special friends Jessie Martin, Terry Florence; and many other friends. In addition to his wife and parents, he was predeceased by grandparents, Tracy (Fairl) Fulton.
Funeral services will be held at 1:00pm on Monday, May 1, 2017 at the Church of Deliverance, 393 N. High St., Chillicothe, OH 45601, with Pastor Jeremy Beverly officiating. Military Honors conducted by the Ross County Veterans Honor Guard will follow in Grandview Cemetery. Friends may call from 11:00am until the time of the service. His online guestbook is available at www.HallerFuneralHome.com
Published in Columbus Dispatch, on April 23, 2017