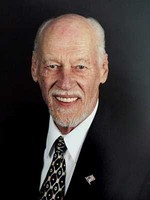 Kenneth Robert Behrend
February 24, 1937 - April 13, 2017
Kenneth Robert Behrend was born Feb. 24, 1937, in Cleveland, Ohio. He passed on April 13, 2017 in Anchorage, Alaska, after a valiant battle with lung and brain cancer.
Kenneth lost his mother at age 10 and father at 18. He moved to Oregon in 1955 and served in the US Army in '56, '57 and '58. His extensive Law Enforcement career started with the Eugene Police Department in 1960, where he served as Patrol Officer, Detective, Sergeant, Lieutenant, Division Commander and acting Chief of Police, which included commanding department SWAT teams for eight years.
He was a graduate of the FBI National Academy and of the US Secret Service Dignitary Protection Academy, Washington, D.C. He accepted the Chief of Police position in Lewiston, Idaho, working from 1979 to 1981. During this time, he was an accomplished author of numerous police articles. By then, it was time to fulfill his dream of coming to Alaska!
Kenneth served as Captain of Security, Southern District of the Trans Alaska Pipeline and resided in Valdez for nine years. He finished his career in the Anchorage Corporate Offices as the Human Resource Manager as well as Program Administrator for the Alyeska Consortium for Substance Abuse Testing. He was an avid hunter with trophies from Alaska, Canada and the Western United States. He was a wonderful father, grandfather and friend who excelled at hospitality that was generous and kind who walked with a noble stature. He loved being in the woods and enjoyed retirement hunting, fishing, tending flowers, bar-be-ques, and loved to tinker and was skilled at many things. He will always be loved, honored and missed with much appreciation for his legacy. May you guard and guide as always.
Kenneth is survived by his brother, Howard, and sister-in-law, Sue Behrend, of Clatskanie, Oregon; daughters, Dana Simonds, of Southlake Texas; and Linda Skalsky, of Wasilla, Alaska; son-in-laws, Curt Simonds and Keith Skalsky; grandchildren, Zachary Simonds, Ian Skalsky and Savannah Simonds.
Published by Alaska Dispatch News on Nov 19, 2017