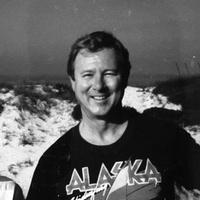 Bruce Nelson McMichael
October 16, 1934 - February 19, 2018
Bruce Nelson McMichael, 83, passed away unexpectedly on February 9, 2018, after a brief illness.
Bruce, a Navy veteran and graduate of Purdue University, was a chemical engineer by trade. His greatest work endeavor was working on the Alaskan Pipeline. He traveled all over the United States and world for work and pleasure. He lived a rich life, valued honor, hard work, and had a passion for fun times and experiences. He enjoyed a good martini. Windsurfing brought him to Corpus Christi more than 30 years ago and he fell in love with the city and the windsurfing culture. A child of the sea, he continued windsurfing into his 70s.
Bruce is survived by his sister Virginia Sittler in Georgia. He is also survived by daughters Megan Shreve and Julie Billman, in Pennsylvania and sons Robert McMichael in Utah and Brian McMichael in Ohio, eight grandchildren and his beloved cat Py. In addition to his parents, he is preceded in death by his brother Joe McMichael and sister Anne Schuster.
Our gratitude to CHRISTUS Spohn Shoreline hospital, especially the ICU nurses and to Angel Bright Hospice, who all worked to make his last week as comfortable as possible.
His children are so appreciative of the windsurfing community, his Corpus friends, his neighbors, and the Porsche Club. You all became his extended family and helped him create the life he wanted here in Corpus.
In lieu of a memorial, his family asks, that you raise a glass in his honor and do more of the things you love. May the wind be always at your back dad.
Guardian Funeral Home and Cremation Services, Corpus Christi, TX
Published in Corpus-Christi Caller-Times on Feb. 25, 2018