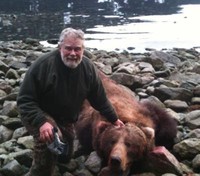 John R. Garrett
July 7, 1942 - February 7. 2018
John R. Garrett, 75, of Stevensville, Mont., passed away on Wednesday, Feb. 7, 2018, at St. Patrick's Hospital in Missoula, Mont. He was born on July 7, 1942, in Cheyenne, Wyo., the son of the late Keith L. Garrett and Jean O. Curry.
Growing up in a military family, John spent time in Cheyenne, Wyo.; Lincoln, Neb.; and military bases in Germany. John graduated college in 1966, from the University of Wyoming with bachelor's degree in business administration.
John married Edith Ruth Ponton of Ottawa, Kan., on Oct. 14, 1967. John and Edie moved to Anchorage, Alaska, during the summer of 1969, where they had two children: Tiffinie Jean (deceased) and Thomas Keith. John worked as an Insurance Adjuster for General Adjustment Bureau (GAB). In 1978, GAB transferred John and his family to Casper, Wyo., where they lived together until 1979. John moved back to Anchorage in 1979. He retired from Alyeska Pipeline in 2008.
In 2000, John married his long-time friend Christina Collins. John and Christina left Anchorage in 2009, to move to Stevensville, Mont.
John's passions in life included his favorite sport, Formula 1 racing, gunsmithing, developing loading data, competitive cowboy shooting, safari shooting, hunting and fishing.
He is survived by his wife, Christina Collins of Stevensville; his brother, Mike Garrett of Trinidad, Colo.; his son, daughter-in-law and grandson, Tom, Rebecca and TJ Garrett of Anchorage; and his stepdaughter, Liisa Akkola of Denver, Colo.
John's funeral was held on Tuesday Feb. 13, 2018, at the Whitesitt Funeral Home in Stevensville. A celebration of life will be held in Anchorage later this summer.
Published in Anchorage Daily News from March 25 to March 27, 2018