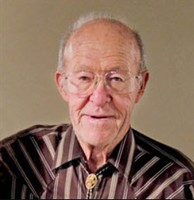 E. Dewayne Ash
February 17, 1925 - March 23, 2018
Earl Dewayne Ash, born in Nebraska in 1925, moved to Finley when he was 12. He grew up in the Tri Cities and graduated from Hover High School. Dewayne returned from summer work in the Salomon National Forest in 1943 where he began his career in firefighting. He met his wife to be, Dorothy, that same year and was happily married for 73 years.
He lived a good life. He was a career firefighter, before 911 made all firemen heroes. He lived to hunt and fish, and was fortunate to live the best parts of his life in Alaska where he lived out his dream on a daily basis.
Dewayne and family moved from the Tri cities to Seattle where he started working at Sand Point Naval Air Station, civil service with the Navy, as a firefighter. They moved to the farm at Stanwood until 1965. Then began the Alaska years. They lived at Adak, Valdez, Soldotna, and Kasilof. After leaving Adak, and retiring as the fire chief, they moved to Valdez where he was a safety officer for the Alyeska Pipeline. In his free time away from Alyeska, he and Dorothy fished both sport and commercial for salmon, halibut and shrimp. They hosted many friends and relatives. He spent time hunting wild game from deer to moose, but his favorite was his Dahl Sheep hunts in the Wrangel Mountains where he had numerous interesting encounters with grizzly bears.
After 7 years at Valdez, they moved to the Kenai Peninsula where he was retired and spent most of his extra time doing the fishing he loved. With great reluctance, after 28 full time years in Alaska, they moved back to Washington but continued to drive the Al-Can highway spring and fall for 21 more years before returning to the Tri Cities for good.
He is survived by his wife Dorothy, brother Wilbur Ash, sister Gladys Hughes, son Merle Ash and wife Adele, daughter Beverley Ash Bingaman and husband Michael, grandchildren Alia Ash, Alex Ash, Mikal White, Tiffany Bingaman Lynch, Jessica Robbins, and Jerod Bingaman, 11 great grandchildren and one great great granddaughter.
He was a true friend, a loving husband, a cherished father and grandfather and one heck of a fisherman. He will be missed by everyone who knew him. The family invites you to sign their tribute wall at: www.muellersfuneralhomes.com
Published in Tri-City Herold on Mar 27, 2018
Muellers Funeral Homes, Kennewick, WA