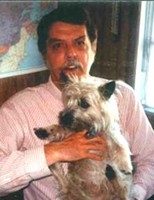 William Dale Gibney
August 27, 1945 - December 29, 2017
Dale was born in Prairie Grove, AR on August 27, 1945, a son of the late Ruby (Phillips) and William Ernest Gibney. Dale lived in Prairie Grove until age 8 where he attended Prairie Grove Elementary, after which his family moved to Tulsa where he graduated from Central High School as a member of the Class of 1963. He attended Northeastern University until 1965 and then proudly served in the U.S. Marines stationed on Okinawa for 1 year and 2 years in Vietnam.

Dale married the love of his life, Nancy Bowling on February 27, 1971 in Tulsa, Oklahoma.

He and his family moved to Saudi Arabia and lived for 3 years where he worked as a Pipeline Controller for Mobil Oil. He was instrumental in the start up of the Trans-Alaskan Pipeline in June 1977. He retired from Alyeska Pipeline Company, Alaska in 1998. He was an active member of the DAV in Sapulpa.

Dale enjoyed playing online bridge, traveling, photography, raising cattle and tinkering around the farm.

He is preceded in death by his parents and his brothers, William Ernest Jr. and Jimmy Charles.

Dale leaves many loving memories with his family, wife, Nancy; son, Aaron Gibney and wife Jennifer; daughter, Wendy Alley and husband, Jeremy; a brother, Michael Gibney; 5 grandchildren, Clarissa, Josh, Amiliah, Jaisley, Piper; sister-in-law Joy, nephews Jonathan Derek and Alex Gibney; as well as many other loving family members and a host of friends.

Service will be held 10:00 AM on Friday, January 5, 2018 at Schaudt's Glenpool Funeral Service Chapel in Glenpool, OK with Gary Volz officiating. Interment with Military Honors will be 3:00 pm in the Prairie Grove Cemetery in Prairie Grove, AR.

Arrangements are entrusted to Schaudt's Funeral Service. Family and Friends may send memories and condolences to the family online at www.schaudtfuneralservice.com.