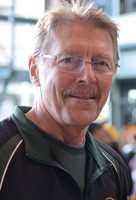 Stephen Richard Ponto
February 14, 1949 - April 14, 2018
Former Alaska resident Steve Ponto, died April 14, 2018 at his home in Hayden, Idaho.
The family is planning a memorial gathering in May.
Mr. Ponto was born on Valentine's Day in Minneapolis, Minnesota to Richard and Lillian (Hammer) Ponto. Minneapolis was home until 1952 when the family bought a farm near Milltown, Wisconsin. Steve attended local public schools, graduating from Unity High School in 1967.
Upon graduation, Steve moved to the twin cities of Minneapolis/St. Paul and worked various jobs until 1973, when he moved to San Francisco. That stay was short-lived, and in February 1974, Steve bought a one-way ticket to Anchorage, Alaska at the invitation of his sister Sharon.
His first job was working seismic surveying on the ice north of Prudhoe Bay. A year and a half later, he was surveying for the construction of the Trans Alaska Pipeline, which he continued post construction until 1985. At that time, Steve quit working to attend the University of Alaska Anchorage and earned a business degree, Cum Laude, in 1989. He put the degree to work in 1990 earning a job with Key Bank, where he worked for 18 years. Steve retired from Northrim Bank in Anchorage after a six year stint with that bank.
While working at Key Bank, Steve met and married the love of his life, Minna (Gehrt) Ponto. Wanting to be closer to grandchildren, they opted to move to the smaller 48 and purchased a retirement "farm" in Hayden, Idaho, moving there in mid-2014. It was a dream home for both, with a dream woodshop for Steve and space for several hobbies for Minna. It is much closer to Minna's youngest daughter in Omaha and her three children.
Steve is survived by his wife Minna; four sisters: Juanita - Florida; Sharon - Alaska; Vicki - Minnesota; and Cindy – Wisconsin; His son, Garrett Ross living in Flagstaff, AZ; His mother, Lillian Ponto, resides in Hudson, WI; Minna's children: Kevin – Alaska, Jamie – Alaska, Kari and her husband Dustin – Omaha Nebraska; 3 Grandchildren.
Condolences may be sent to Minna at 22121 N. Derting Road, Hayden, ID 83835. In lieu of flowers a donation to Hospice of North Idaho at 2290 W. Prairie Ave, Coeur d' Alene, Idaho would be appreciated.
English Funeral Chapels and Crematory, Coeur d'Alene, ID
Published in Anchorage Daily News on Jun 5, 2018