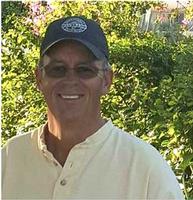 Larry Michaud
1955 - September 4, 2018
Larry Michaud passed away, at age 63, on September 4, 2018 at his home, surrounded by his wife and children. For the past two years Larry fought bravely with an aggressive form of brain cancer, to which he eventually succumbed.
Born in Butte, Montana in 1955, to Ted and Gerry Michaud, he was the first of seven children. The family moved to Anchorage in 1970. Larry graduated from Dimond High School in 1973 and after graduation he promptly hitch-hiked from Alaska to Mexico. Upon his return to Alaska, he moved to Valdez in 1974 for work. It was in Valdez where he met the love of his life, Lynne (Ruhl) Michaud. They married in 1981 and proceeded to have two children, daughter Laci Michaud and son Roy Michaud.
Larry was a member of Alaska Laborer's Local 341 and retired from Alyeska Pipeline in 2014 after 23 years of service. Larry enjoyed spending his time with his wife at his beloved cabin at Silver Lake, golfing in Arizona during the winter, and cooking up meals for his family and friends. Larry was very caring and thoughtful, quick-witted, funny, and always willing to help others. He touched many people, with friends and family saying things such as "He's the best man I have ever known" and "I am a better man because of knowing him".
It is with great sadness that we say goodbye to Larry. His family and friends (both near and far, as well as the community of Valdez and Silver Lake) will truly miss him and his upbeat personality.
Per Larry's request, no services will be held. Next summer the family will host an intimate gathering to release his ashes.
The family is collecting monetary donations in Larry's memory for the Silver/Strelna Lake Volunteer Fire Department. If you would like to donate to this non-profit in his memory (Tax ID# 02-802571, all donations are tax-deductible), you can mail a check to either the Strelna Lake Volunteer Fire Department, P.O. Box 73, Chitina, AK 99566 or to The Michaud Family, P.O. Box 52, Valdez, AK 99686.
"IT'S NOT WHAT WE HAVE IN OUR LIFE, BUT WHO WE HAVE IN OUR LIFE THAT COUNTS." -J.M. LAURENCE
Published in Valdez Star, September 19, 2018
------------------------------------------------------------------------
In additon to the above, from Alyeska Communications:
"We are sad to report that longtime Alyeska employee Larry Michaud passed away on September 4, 2018. Larry was a fixture in the Valdez community since moving there in 1974. He was a member of Alaska Laborer's Local 341 and worked on TAPS for 23 years before retiring in 2014. He was hired by Alyeska as a Terminal technician in 1991, moved into Oil Movements as a tech, then into Marine Operations as a tech, a position he held through the rest of his career."