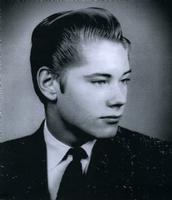 Donald G Bruce
October 11, 1939 - September 28, 2018
Donald G. Bruce, 78, of Greenbrier, AR went home to be with his Lord and Savior Jesus Christ on Sunday, September 23, 2018.

He is survived by his wife, Wanda; daughters, Lisa Page and husband Rusty and Lana Stone and husband Kenny; grandsons, Brady Mercer and wife Rachael and Seth Stone; and two great-grandchildren, Cash and Phoenix Mercer.

A private ceremony will be scheduled later.
From Roller McNutt Funeral Home, Greenbrier, AR
Published in The Log Cabin Democrat on Sept. 28, 2018
---
From John Ferrell:
"Another surveyor has passed on. Don was a surveyor who helped pioneer the route of TAPS, surveyed during Construction Phase, and supervised crews for Maintenance and ROW surveys from 1976/1977 thru to early 2000's. He was the Dean of all the very good surveyors we had working for Alyeska."