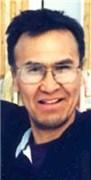 Homer "Aniqniq" Tobuk
May 20, 1951 - Oct 20, 2018
Homer "Aniqniq" Tobuk was born May 20, 1951, to his (late) parents, Frank Sr. and Dora Tobuk, on the banks of Koyukuk River below Alatna and Allakaket. He died unexpectedly Oct. 20, 2018, in Fairbanks. When he was born, everyone in Alatna and Allakaket were in spring camp except for his mom and her ch>ildren. His dad worked in Nenana.
Homer was a great athlete. He was a wrestler in high school and loved to play many different sports, including basketball and softball. He was the pitcher for the AK Blazers for many years. He was also a dog musher with dogs given to him by his friends, Fred Ned Sr. and Bergman Moses, and once won the Cheechako race in Allakaket.
Homer was a person who always tried to lift people up. He cared deeply for the young adults whom he would encourage and advise, he coached little league and other sports in Allakaket and helped raised many children. Homer was a kind, caring and giving man who had friends throughout Alaska. He met many on the North Slope and along the pipeline while working for Local 302. After decades of working, he attempted to retire in May 2018 and was back at work by August 2018. He started out as an emergency wildland firefighter in 1969 and also worked as the Village Public Safety Officer in Allakaket before his years on the North Slope. Homer was an avid outdoorsman and lived a subsistence lifestyle. He loved fishing and hunting, and once picked 18 gallons of blueberries, cranberries and salmon berries after working his shift at Pump Station 5.
Homer is survived by his partner of 33 years, Kathleen Linus; his sisters, Florence Nictune and Sonya (Tobuk) Knight, and brother, William "Bill" Tobuk; stepdaughter, Loretta; stepson, Lawrence (Elisa); grandson, Brian (Salone); numerous nephews, nieces and grandchildren.
He was preceded in death by his parents, Frank Sr. and Dora Tobuk; his siblings, Millie Evans, Polly Demientieff, Ella Thompson, Andy Tobuk, Richard Tobuk, Candy Demientieff and Raymond Jr; his nephew, Chris Thompson; and many of his cousins.
Services will be held at 10 a.m. Oct. 24, 2018, beginning at the Chief Peter John Tribal Hall and burial at the Birch Hill Cemetery. After the services, there will be a potlatch at 5:30 p.m. at the Chief Peter John Tribal Hall.
Published in Daily News-Miner from Oct. 23 to Oct. 24, 2018