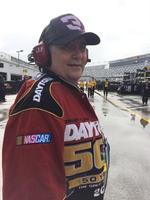 Donald Dickenson
October 1, 1953 - October 29, 2018
Donald Eugene Dickenson, 65, passed away on Monday, Oct. 29, 2018, in Valdez, Alaska. Don was born on Oct. 1, 1953, in Dallas, Oreg., and moved to Territorial Alaska with his family in 1958. Don spent most of his life in Valdez where he met and married his wife of 46 years, Lynn.
He spent his early years as a commercial fisherman, a Teamster, and held many positions during his long career with Alyeska Pipeline Service Company until his retirement in 2007.
He was a member of the Fraternal Order of Eagles, the American Legion, and the BPOE Elks.
Don is survived by his mother and stepfather, Delores and Robert Connelly of Anchor Point, Alaska; wife, Lynn; son, Phil; and granddaughter, Paisley Ann; as well as sisters, Wanda Jameson, Pam Spencer, Natalie Lazenby, and Laurie Lincoln; brother, John Butcher; and a large extended family.
Don is preceded in death by his father, Lloyd Dickenson; brother, James, "Jimbo" Butcher; and son, Daryl Dickenson.
Services will be held at St. Francis Xavier Catholic Church at 2 p.m. on Tuesday, Nov. 6, 2018, followed by a potluck reception at the Valdez Elks Lodge, 339 Fairbanks Drive, Valdez AK 99686, from 3 p.m.-5 p.m. Private interment will be at Valdez Memorial Cemetery.
Contributions in memory of Don can be made to the Valdez Elks Lodge #2537, PO Box 1607, Valdez AK 99686.
Published in the Anchorage Daily News on Nov. 2, 2018
Evergreen Memorial Chapel - Anchorage