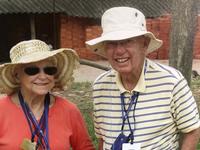 Wesley Myron Witten
June 20, 1928 – August 13, 2019

Wesley Myron Witten was born in King City, CA on June 20, 1928. He was the second of three children born to Earl Henry Witten, Sr., and Teresa Virginia (Scolari) Witten.
Wesley grew up in Riverdale, CA. He went to Lanare Elementary School. He then graduated, at age 15, from Riverdale Union High School. After graduation, he tried to enlist in the Armed Forces during WWII but was turned down due to his young age.
Wesley graduated from California Polytechnic State College in 1949 with a B.S. in Aeronautical Engineering, a pursuit at which he never, ever worked. He was a registered Professional Engineer (PE) in the state of California though 2017.
After Cal Poly, Wesley worked on a ranch. It was during this time that he met Thelma in January 1950. They were married the following July. They were married for 69 years and raised 3 children: Steven Phillip Witten (1953), Eric Bruce Witten (1955), and Susan Kay (Witten) DeSantis (1957-2008) After marriage, Wesley took a job with Pacific Gas and Electric (PG&E). After Eric was born, Wesley left PG&E and joined the Richfield Oil Company in 1956. He stayed with Richfield through its transition in 1966 to Atlantic-Richfield (ARCO) where he worked until he retired in 1986.
Wesley held a number of different positions in the oil and gas industry at ARCO, including: Manager Transportation Western area from 1956-1970; Manager Marketing Operations, 1970-1975; Manager Joint Interest Pipelines, 1975-1976, and PAD-V Transportations Projects, 1978, Senior Vice President, Manager Alaskan division Atlantic Richfield Company Pipeline Company, 1979-1980. Vice President Operations, 1980-1981. Vice President Crude Supply, Atlantic Richfield Products Company, 1981-1982 and Senior Vice President marketing Atlantic Richfield Company Metals Company, Chicago.
However, he was most particularly proud of his long association with the Trans-Alaska Pipeline System (TAPS) dating from the 1960s. After retirement, Wesley worked another year for Alyeska Pipeline Service Company as Vice President of Operations (Alyeska operates TAPS on behalf of 5 owner companies) and as CEO for Northern Air Cargo — both in Alaska.
He gave freely of his time and expertise to help others start businesses, organize fund-raising and plan personal philanthropy. His goal was always in the betterment of others and peers. Although he was given many awards throughout his life, the plaques and other tchotchkes meant little to him. Recognition by his peers was much more important.
Wesley was a tireless organizer and participant in charitable endeavors and other community and civic based good works. He delighted in his many accomplishments and associations during his many years with the Rotary Clubs of San Luis Obispo, CA and Reno, NV; the Cal Poly Alumni Association; SCORE (Service Corps of Retired Executives) in Reno; the American Red Cross in San Luis Obispo and serving on the Advisory Board of the Hugh O'Brien Youth Foundation (HOBY). He was also a member of Commonwealth North (Anchorage), the American Society of Mechanical
Wesley was a committed Boy Scout leader — Dad's committee, Assistant Scoutmaster and eventually Scoutmaster for Steven's and Eric's Boy Scout troop in Long Beach (which is still in operation). Both Steven and Eric are Eagle Scouts. Both Wesley and Thelma were active in Camp Fire for Susan. Hiking, fishing and other outdoor activities consumed his family life while raising his children. Wesley provided higher education for each of his children.
Wesley was a devoted grandfather to his 5 granddaughters and provided higher education to each in such diverse fields as engineering, art, animal science, international finance and the law. He was a particularly soft touch for them especially at Christmas. Wesley was great-grandfather to Jillian (and an even softer touch for her.) His grandchildren, in order of age are: Emily Ann (Witten) Miskel, Alice Lea (Witten) Rosa, Lauren Elizabeth Witten, Rebecca Ann Witten, and Anastasia Victoria (DeSantis) Mensen. HIs one great grandchild is Jillian Rose Miskel.
Wesley touched many lives during his time with all of us. We are grateful for his determination in business; unconditional love as a husband and father; wise counsel as uncle, in-law and grandparent; devoted friendship; uncompromising integrity; skill as a fishing buddy; and joy in being an all-around good guy.
----------------
A Celebration of Life for Wesley M. Witten (1928-2019) will be held at Affordable Cremation & Burial 6510 Cherry Ave Long Beach, CA 90805 on Wednesday, August 28, 2019 at 12:30pm. You are cordially invited to attend. There will be light refreshments following the service