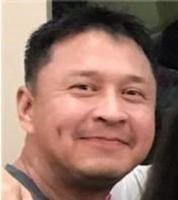 Steve Bennis
December 28, 1975 - January 14, 2020
Steven Dale Bennis Jr. was called home to the Lord Jan. 14, 2020, in Manila, Philippines, from complications of pneumonia while visiting the love of his life, Maedelyn Vito. Steven was born to Steven Bennis Sr. and Paula McQuestion (Bennis) on Dec. 28, 1975, in Anchorage. Steve lived in Anchorage and Fairbanks, eventually settling in North Pole with his family where he grew up with life-long childhood friends, some that are still his neighbors.
He graduated from North Pole high school in 1994. Steven served in the Navy from 1996 to 1999. He joined the IBEW apprenticeship in 2003, and graduated in 2008, which he was very proud of, along with his family who supported him every step of the way. He took great pride in the work that he did, and was employed with Alyeska from 2013 to present, and gained many friends and co-workers that he came to know as his second family. He also leaves behind his church families in Valdez, where he resided, and Fairbanks.
Also, traveling to India in 2016 with his son, and Steve Parker to minister their love of the Lord. Steven came to know the Lord Jesus Christ as his savior, and celebrated his sobriety on Aug. 28, 2009. He led many people to the saving knowledge of Jesus, and was always there to help anyone in need. He was hospitalized for weeks, and in that time he prayed for those around him who were also ill. Steven was a selfless, loving and caring person who will be missed by all who knew him. He was so easy-going and known for his great smile and humorous jokes. He loved making people laugh and had the biggest heart. Steven, affectionately known as "Bun-bun," loved being a part of the community of Minto and returning for hunting and fishing with his good friends Cal, Keith and Din, always making sure to share with elders and others. His strong faith and testimony in God is reassurance for those he left behind.
Steven is survived by his mother, Paula McQuestion; father, Steve Bennis Sr. (Hanna), sisters; Shannon (Charles) Morton, Shaelene (Malcolm) Nickoli; his son, Caleb, fiancee Maedelyn (Mitzi) step-children Dani, Eco and Hannah, also Danielle and Tristen; his aunts, Kathy l(Kevin) Bragg, Karen Bennis, and Dee Lillie; and uncles, John (DeeDee) Bennis and Gabe McQuestion; cousins that he held a special relationship with. Also, each and every one of his nieces and nephews, whom he loved and spoiled, always telling them "Uncle is here!" Steven was preceded in death by his paternal grandparents, Jack and Esther Bennis; maternal grandmother, Florence McQuestion; sisters, Stephanie Bennis and Darlene (Bennis) Robinson; aunts, Jacqueline (Bennis) Gredigan and Joyce Charlie; and uncles Larry Charlie and John Lillie.
Steve was loved by all and will be dearly missed and we take comfort in all of our precious memories that we hold dear to our hearts, as each was so special to him, "until we meet again."The prayer service with gospel singing will be held on Feb. 7, 2020, from 5-7 p.m. at Fairbanks Funeral Home, 3704 Erickson Avenue. The funeral/graveside service will be held on Feb. 8, 2020, service at 11 a.m., at the Chief David Salmon Tribal Hall, 101 Clay St., Fairbanks, the viewing/visitation will be held from 10 a.m. until the start of service with interment at the Birch Hill Native Cemetery following at 1 p.m. potlatch at the Tribal Hall at 5 p.m.
Published in Fairbanks Daily News-Miner on Feb. 4, 2020.