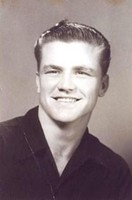 Edwin Everette Atteberry (Ed) passed away January 8th, 2012 in Houston, TX. He was born September 21st 1929 in El Paso, TX to Edwin and Pearl Atteberry.
Ed served in the United States Army during the Korean War.
Ed's early career started in Baytown, TX at the Humble Oil Refinery. He then went on to become one of the most highly respected Fire & Safety Executives in the oil and chemical sectors. Ed held positions at ARCO's Lyondell refinery in Channelview TX, at ARAMCO in Riyahd, Saudi Arabia and he retired as Alyeska Pipeline Service Company's Director of Fire and Safety for the Trans-Alaska Pipeline.
Ed was preceded in death by his wife Virginia Breed Atteberry, grandsons Jason Allen Coleman and Jared Atteberry. Sisters Bonnie Lee Gibbons and Jessie Pearl Ezell, son-in-law Douglas Keith Wilcox, brother-in-laws Victor Adams and James Ezel.
Ed is survived by the following: His wife Noemi Atteberry, daughter Sherril Wilcox, sons Greg & Hope Atteberry of League City, TX and Malcolm and Kim Atteberry of Anchorage Alaska.
Grandchildren: Amanda and Robby Buchanek, John Atteberry, Jessica Atteberry and Alicia Atteberry & Lennon Boswell. Dylan Rosales and Hailey Rocha. Nephews: Kenneth and Doyle Adams. Nieces: Susan Gibbons, Cathy Ezell, Becky. Great Grand Children: Austin Rosales,and Ann Ezell. Brother in Law: Arthur Gibbons
The family wishes to express their gratitude to Theresa Smith for going above and beyond in her care of Ed in his final days.
Arrangements under the direction of Earthman Baytown Funeral Home, Baytown, TX.