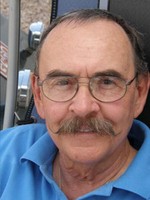 T.C. (Tom) Dull of Gold Canyon, Arizona, was released from his body on March 14, 2012 at Banner Hospice Home in Mesa, AZ, following his battle with cancer.
Tom was born and raised near Portland, Oregon. He joined the Air Force for 8 years and through the Nuclear Power Program came to Delta Junction/Fort Greely, Alaska. T.C. then took a job working for the University of Texas at El Paso, in Delta Junction. The program called for shooting rockets into the atmosphere to check for weather patterns.
Thomas was married to Patti Smith on September 30, 1967 at Delta Junction. They have one daughter, Teri Dull Julian of Yakima, Washington, and two grandchildren, Taylor Rae and Alec who live in Minnesota. Taylor Rae will be having Tom's 1st great-granddaughter in late April. Tom's daughter Caitlin Dull Hager lives and works in Kentucky.
T.C. received a degree in Outdoor Recreation from the School of Forestry at Iowa State University in Ames, Iowa in 1973. He then went back to Alaska and worked as a park ranger for the State of Alaska until the Pipeline was being constructed and was hired as an environmentalist. He then worked at Pump Station #9 for Alyeska Pipeline Service Company until retirement in 1997.
He and Patti traveled in their motor home after retirement frequenting the western part of the United States. As long as it was West of the Mississippi it was visited at least once each year. T
C will be buried in the National Cemetery in north Phoenix, Arizona, on Tuesday, March 20, 2012.
Published in Delta News Web on Mar 16, 2012