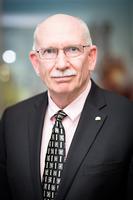 Michael Burnett Cusick
February 3, 1954 - February 19, 2022
Michael Burtnett Cusick, 68, recent resident of The Woodlands, Texas, died on Feb. 19, 2022, from ALS. Mike was born in Baltimore, Md., to Leo Francis and Jane Burtnett Cusick. He spent much of his early childhood in Hinton, W.Va., where his grandmother, Hannah Cusick, raised him and where he learned a love of the outdoors and of trains. He moved to Charleston, W.Va., where he graduated from Charleston High school in 1972. In 1974, he went to work for the West Virginia Department of Highways as a field inspector for new interstate construction. He parlayed this experience into a career in quality assurance and quality control in the nuclear, petro-chemical and construction industries. Prior to retirement, Mike was Director of Quality Assurance and Quality Control for CB&I Lummus with oversight of all North, Central and South American operations. He was most proud of his appointment to the Alaska North Slope Spills Analysis Expert Panel.
Mike never let location get in the way of an opportunity, working in Tennessee, Georgia, Michigan, Alaska, Colorado, and Texas, as well as across the Americas. Mike was lucky enough to travel all over the world as part of his work and for pleasure. He was a private pilot in his younger years and owned a plane. He was an avid shooter and became nationally ranked in skeet. He enjoyed shooting birds, and traveled to Mitchell, S.D., and Cordoba, Argentina, to take advantage of excellent bird opportunities. When he wasn't busy with something else, he could be found reloading ammo or talking about guns.
Throughout his travels and life, Mike made a tremendous number of friends. He was always pleasantly surprised by their support and affection. In return, he delighted them with stories, jokes and the ability to eat immense amounts of pie. Mike had a story for just about any situation. Although some were fiction, most of them were real. Managing quality on construction projects worldwide gave him the opportunity to see humanity in a wide range of situations.
Mike's beloved soulmate, Nina Prytz Wikstrom Aguilar, preceded him in death. Nina brought joy, love, family and animals into their relationship. At times, the animals took up more space than the humans, but they were always loved. Nina's children, Elizabeth Aguilar and Michael (Shayla) Mirzakhani, and her brothers, David (Ellen) Wikstrom and Jon (Katherine) Wikstrom survive him. He loved her grandchildren, Ari and Lily; niece, Olivia; and nephew, Jackson.
Mike is survived by his sisters, Alice (David Rowlands), Joan (Mark) Duncan and Nancy Jo Forbeck; nieces, Alice Catherine and Elizabeth; nephew, Josh; and great-niece, Ava. He was a dearly loved brother whose "feet didn't touch the ground" until he was 2 years old, as his sisters carried him everywhere. He loved them fiercely, even when they were separated.
In the past two years, he was surrounded by friends and family who did whatever they could to make him comfortable, make his life interesting and feed him as many Norwegian pancakes as possible. He never quit telling jokes, even when we had to listen carefully over the oxygen machine. It was always worth the effort. Donations in his memory can be made to the ALS Foundation or by giving blood to the American Red Cross.
Published in the Anchorage Daily News on February 27, 2022