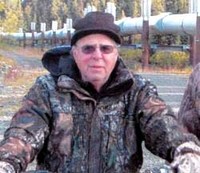 Robert John Adkins, 77, from Big Lake, AK and Goodyear, AZ, passed away after a lengthy illness on Thursday, August 14, 2014 at Providence Hospital surrounded by family and friends.
Bob was born in Rhinelander, WI on February 1, 1937, to Elouise and Orville (Jack) Adkins. He graduated from Lebanon High School in Oregon and earned a Bachelors Degree in business from Oregon State University. The building of the pipeline brought him to Alaska in 1974 where he worked first as an equipment operator and eventually in management for Alyeska Pipeline. His only career failure was trying to stay retired.
'Big Bob' was a generous, loving, and sometimes ornery man who was larger than life to those who knew him. He was a great host and brought his project manager skills to everything he did. He was active in the Little Dribblers basketball program in Fairbanks and was vice president of the North Pole High School Booster Club. He and Ranea housed various North Pole Nicks baseball players who became his 'adopted' sons as he followed their careers into professional baseball. His greatest loves were his sons and their wives, his grandchildren and his beautiful wife Ranea whom he met in a bean field in Oregon 57 years ago. They would have celebrated their 50th anniversary in November.
Robert is survived by: his wife Ranea (Yechout), his sons and their wives; Robert John II (Holly Salo) and Joel Francis (Kimberly Ambruz), his grandchildren; Elle, Ryan, Alise and Brady, his brother Joel Dean Adkins of Missouri, his sister Carol Mueller of Oregon, and many colleagues and close friends from his work on the pipeline.
Bob was preceded in death by his parents, Jack and Elouise Adkins and Ranea's parents, Frank and Lucille Yechout.
A funeral mass will be held at St. Andrews Catholic Church at 5pm Friday followed by a banquet at the church. A Celebration of Life will be held at Big Lake on Saturday from noon to six. For additional information call (907) 351-3397 or (907) 250-9561. In lieu of flowers, the family requests that donations be made to S.A.V.E. High School /Close-Up Program to be awarded to disadvantaged youth to visit Washington D.C. The address is 410 East 56th Avenue, Anchorage, Alaska 99518.