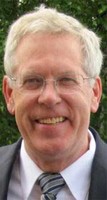 Douglas James Knutson passed away peacefully at home, surrounded by his family on Friday, August 29 after a long illness.
Doug, the first son of Clarence and Shirley Knutson, was born in 1950 and raised in Thief River Falls, MN. He was always tall and was popular on the basketball, tennis and running teams. Doug was an Eagle Scout, loved the outdoors and often went xc skiing or canoeing. Music was an early passion and he played the piano all his life.
Doug attended Dartmouth College, where he rowed crew, and in 1976 obtained an ME from the Thayer School of Engineering. At Thayer, he met a young secretary, Donna Brown, whom he married in July of 1975.
The newly-weds first moved to New Bedford, MA where Doug worked for Polaroid for 7 years. In search of adventure and "colder winters", Doug and Donna moved with their newborn son, David, to Anchorage in June of 1982 for a job with ARCO. Alaska quickly became home and son Eric was born in 1984. Doug was busy on North Slope engineering projects and taking his family xc skiing or hiking.
In 1996, Doug took a job with Alyeska Pipeline. He worked for 9 years in Fairbanks and an additional 9 years in Anchorage until his health failed. Over the years, Doug hugely enjoyed working on the slope and remote pump stations. The challenges he faced and the friendships he gained throughout his career gave him a wealth of joy and fulfillment. He loved being an engineer.
In 2006, Doug began his dream of designing and constructing a post and beam house in Girdwood. He acted as general contractor and did much of the work himself, aided by family and friends. When Doug's illness limited his mobility, he was able to relax in the home he'd built, enjoying his family, friends and the splendor of Alaska. He is survived in AK by his wife Donna, son David, and brother Craig (with Kathy, Kristian and Conor), also by his son Eric (with Megan) in TN, his mother Shirley and sister Susan in MN, and his in-laws Bob and Hazel Brown in NH.
A Celebration of Doug's Life will be held at the Tanglewood Chalet on Thursday, September 11 from 4:00-6:30 PM. In lieu of flowers, the family is suggesting donations to the Girdwood Nordic Ski Club for construction of a new bridge on one of Doug's favorite xc trails.