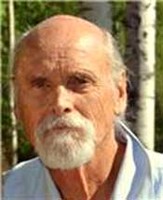 William "Bill" Bell's soul left this world peacefully at his home Nov. 5, 2014.
Bill was a quiet man who needed no accolades; his sense of humor and peaceful calming spirit were strengths he gave to his family and friends. He was a gentleman and a wonderful husband, father and grandfather. Bills most enjoyable times were spent at his cabin on Harding Lake entertaining his friends and family.
Bill was born and raised in Arizona. In 1975, he made his way to Fairbanks where he met the love of his life, Kathy, and their family grew to include a daughter, Sara, and son, Joshua. Bill had a family that he loved, and they loved him dearly, especially his precious grand-daughter, Lucia, who was the bright star during his time of sickness.
Bill was a retired ironworker from Local 751, afterward moving into the arena of oil and gas quality assurance. During his 25 years in this field, Bill mostly worked on the trans-Alaska pipeline as a QA inspector for Alyeska Pipeline, from which he retired, and various contractors. He and his wife worked in Moscow, Russia, these past couple of years on an oil pipeline, making many friends and seeing the world.
He held all his friends, work associates and family close to his heart and cherished all the moments spent with them. Bill leaves behind his wife, Kathy; daughter, Sara Bell, and her fiance, Jay Bedingfield, and four future grand-children; son, Joshua Bell; daughter-in-law, Stefani, and grand-daughter, Lucia; sister, Sheila (Royce) Spaulding; family pet, Tucker; dearest friends, Larry and Metta Russell, and many extended family throughout the Lower 48.
Bill was preceded in death of his brother, John Bell, and parents, Jane and Carl Bell. A celebration of life will be held from 1-4 p.m. Nov. 22 at the Turtle Club. Condolences can be mailed to: P.O. Box 72491, Fairbanks, AK 99707. Physical address is 1032 Silverweed Court, Fairbanks, AK 99712.
Published in Daily News-Minor on Nov. 11, 2014