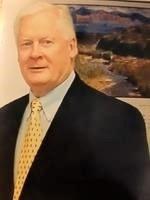 Paul M. Richards
August 31, 1938 - October 27, 2021
Paul M. Richards, 83, passed away at home on October 27th, surrounded by his wife and daughter. Paul was born in Estherville, Iowa, to Gilbert Richards and Pauline Rousseau Richards, the younger of their two sons, but was raised from infancy in California.
We will all miss this caring, generous man. His kind heart, honesty and wit worked in tandem with his sharp business mind. He could always bring people and issues together with a smile and his soft spoken manner. It was his heart and sincerity that inspired people. When you met Paul, you knew you were blessed. His strength of character and quiet grace will always be remembered.
Paul is survived by his wife of 59 years, Bonnie, his daughter, Janet Cardinalli (Ray), two grandchildren, Katelyn and Mark, his sisters, MacKenzie Roorda and Paula Sardina, his brother Michael, and his nieces, Bonnie, Kelly and Erin, and his nephew, Michael. He also leaves behind his beloved dogs Heather and Chloe. He was predeceased by his brother, David.
A Memorial Mass will be held at Sacred Heart Catholic Church in Medford on Friday, November 5th at 10:30 a.m. Donations in Paul's memory may be made to the charity of one's choice.
Published in the Medford Oregon Mail Tribune from Nov. 2 to Nov. 3, 2021
------------
For more information about Paul's work with Alyeska, please click on the link below