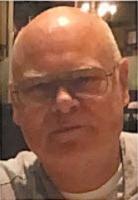 Roy Gordon Benton, Jr.
December 6, 1952 - September 1, 2021
Roy Gordon Benton Jr. passed away after a short illness on Wednesday September 1, 2021 in his adopted hometown of Eagle River Alaska at the age of 68. Roy was born to Roy Gordon Benton Sr. and Dorothy Louise Benton on December 6,1952 at Fort Bragg, North Carolina. He spent his youth growing up in North Carolina and many other places following his father's Air Force Career. He enlisted in the United States Air Force in 1971 after he graduated high school. He met the love of his life, Gen, in 1972 while on an assignment in Taiwan. Together they had two daughters and made countless memories traveling the world while Roy served his country.
Roy retired from the Air Force in 1991 as a Senior Master Sergeant, but he did not stop serving. He spent the next twenty years dedicating his service to the state of Alaska as an electrician on the pipeline, retiring in 2011. Roy loved to golf, travel and spend time with his family. He and Gen often took cruises and spent time with friends and family around the world.
A private ceremony will be held by the family on September 14, 2021 @ 11 a.m. at: Cremation Society of Alaska 1306 E. 74th Ave. Anchorage, AK. 99518. The burial will follow at the Ft. Richardson National Cemetery located on JBER @ 2:30 p.m.