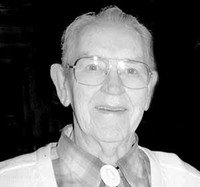 Wilber Daniel McBride
Longtime Alaska resident Wilber Daniel McBride, 82, died at home in Wasilla on Feb. 26, 2010.
Visitation will be March 2 at 1:30 p.m., with a Masonic service at 2 p.m. at Valley Funeral Home, 151 E. Herning Ave., Wasilla chapel. Immediately following the Masonic service Wilber will be taken to the Good Shepherd Lutheran Church, 501 Bogard Road for a memorial service to be held at 4 p.m. Tuesday. Pastor Duane Hanson will officiate. Burial will take place at Wasilla Aurora Cemetery Wednesday at 11 a.m.
Wilber was born on Oct. 9, 1927, to Daniel and Louva McBride in Bedford, Ohio. He served with the Marine Corps from 1945 to 1953. From 1953 to 1976 Wilber worked for Sohio in Ohio then transferred to Alaska in 1976, and moved his family to Anchorage in 1977 from Lima, Ohio. He worked for Alyeska pipeline Service Co. until his retirement in 1985.
Wilber was a member of Good Shepherd Lutheran Church in Wasilla where he volunteered many hours. He was also a member of the Masons, Iditarod Lodge No. 20. He enjoyed hunting, fishing, woodworking and lawn work.
The family would like to add, "Our father was a very traditional, loving father that instilled integrity into his boys. There were two ways to do things, the right way and the wrong way. He didn't believe in shades of gray. To Dad, taking care of his family was the top priority."
He is survived by his wife Doris of Wasilla; David (Gladys) of Poulsbo, Wash., Dwayne of Hope, Gary (Robyn) of Wasilla, Larry (Karla) of Wasilla; grandchildren, Jason, Kevin, Daniel, Kimberly, Jamie and Justine; great-grandchildren, Emily, Samantha and Amelia.
He was predeceased by sisters, Wilma, Kathleen, Dolores and brother Gordon.
The family requests any donations be made to Good Shepherd Lutheran Church in Wasilla.