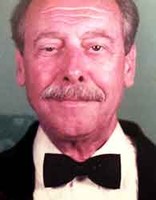 Armand C. Spielman
(1924-2016)
Obituary
Armand Charles Spielman was born in St. Louis, Mo., on May 26, 1924, and died on Feb. 17, 2016. He was 91 years old, and lived in Anchorage, Alaska, since 1960.
His father and mother were Charles F. Spielman and Olga Spielman (nee Widman), both born in St. Louis. Armand grew up in St. Louis and graduated from Lyon Elementary and Cleveland High Schools, prior to being drafted into the U. S. Army at Jefferson Barracks, Mo., in February 1943.
Following his military service in World War II in Africa, Italy, France and Germany, he married his wife, Jacqueline Helene Isoard, who was born in Marseille, France, on Nov. 27, 1924. They married in New York on Sept. 6, 1946, and thereafter lived in St. Louis, where he was employed by the St. Louis County Planning Commission and the Union Electric of Missouri until they moved to Southern California in 1950. In Los Angeles he was employed by the Southern California Edison Company until 1955, when he joined the Richfield Oil Corporation where he was employed as Petroleum Landman. In 1960, Richfield transferred him to their Anchorage Exploration Office where he became their District Landman. In 1968, Richfield was merged into the Atlantic Richfield Company just at the time the merged companies discovered the Prudhoe Bay oil field on the Arctic North Slope of Alaska.
Following the discovery of the largest oil field in North America, the merged company, in 1969, assigned him to the newly created consortium called Alyeska Pipeline Service Company, where he became Land Acquisition Manager for the construction of the Trans-Alaska Pipeline that spans Alaska from the Arctic Coast to Valdez, Alaska. In 1975, when the pipeline was under construction, he returned to the Land Department of Atlantic Richfield Company, and then in 1979, they transferred him to their Dallas, Texas, headquarters where he participated in the Corporation's Land Staff. In 1979, he was again transferred to Arco Alaska's Anchorage office, where he would continue doing petroleum land work and pursue his favorite winter sport of downhill skiing. After three years in Texas, Anchorage was his home again, where his wife, Jacqueline, died of cancer on Oct. 12, 1982. Thereafter in 1985, he retired from Arco after 30 years of service in the oil industry and with the company. He continued after retirement to do consulting land work in Alaska.
Armand is survived by his sister, Marilyn McGarity who resides in Riverside, Calif.; his son and daughter-in-law, Terry and Elba Spielman; their daughters, Jacqueline and Ashley and her husband Brendan Deschaine; and great-granddaughter, Micha Spielman-Potter; and daughter, Erica Spielman all of Anchorage; and daughter, Tracy LaVassaur of Nevada; his two married daughters, Lana and son-in-law Ray Dahl of Anchorage, and daughter, Linda and son-in-law Tom Doupe of Colorado Springs, Colo.; and their two children, Kelly and wife Sonia Doupe also of Colorado Springs and Kimberly and husband Andy Grimmer of Houston, Texas; and their two children, Armand and Suzie. Mr. Spielman also has relatives living in St. Louis and they are cousins, Mark Spielman and Father Paul J. Spielman of the St. John Nepomuk Catholic Church.
Armand wrote a book, "A Project That Reformed Alaska and Its Legislature," which has been rewritten into a novel with his partner, author Michael D. Travis. The novel is called "The Landmen, How Alyeska Secured the Trans-Alaska Pipeline System Right-of-Way." There will be a book signing at the Petroleum Club at a date to be announced in March 2016.
Mr. Spielman will be interred in Angelus Memorial Park Cemetery on Klatt Road, next to his wife, Jacqueline. In lieu of flowers, memorial donations can be sent to A. C. Spielman Youth Fund in care of the Youth for Christ Organization's Office at 5001 Arctic Blvd., Unit #4, Anchorage, AK 99503.
Published in Alaska Dispatch News on Feb. 21, 2016