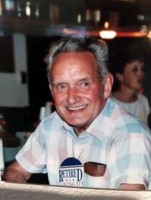 George Warren Frigon
December 29, 1928 - June 29, 2016
George Warren Frigon, 87, passed away peacefully at home on June 29th, 2016 with his daughter, Linda by his side.
Warren was born in Syracuse, New York on December 29, 1928. He moved to Alaska in 1976, working for the Alyeska Pipeline, and retiring in 1992. Throughout his life in Alaska Warren was also a Mason at Lodge 13, an Auxiliary at VFW 9785, as well as a Men's Auxiliary at VFW 9785.
Warren enjoyed fishing, woodworking and photography. He also enjoyed going to the VFW with his good friends of many years where he enjoyed his favorite drink, Scrap Iron.
Warren will be dearly missed by his daughter Linda (Bill) Adamo; grandchildren Sherri (Bryan) Turner, William (Monique) Adamo, Traci (John) Bertollini, Jeff (Kate) Frigon, Jennifer (Nick) Gallo, Brandon Martin; great-grandchildren Haile, Jenah, Lia, Gavyn, Luke, Andrew, Chase, Riley, Mariella, and Grady. He is also survived by his favorite daughter-in-law Peggy, many nieces and nephews, and by his Alaska daughter, Betty and Alaska son, Scott.
Warren is preceded in death by his parents, brothers and sisters. He is also preceded by his son Robert, daughter Deborah, and Wife Kathy.
In lieu of flowers, donations may be made to an animal shelter of your choice

A celebration of life will be held on Wednesday, July 6th at 6:00 p.m. at the VFW Post #9785; 10527 VFW Rd., Eagle River, AK 99577.

Arrangements are with Janssen's Eagle River Funeral Home.