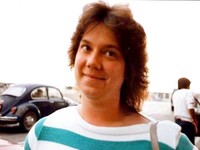 Brenda Bentley
1957 - October 10, 2016
Brenda Laurie Bentley was born in Saginaw, Mich., to Henry and Dorothy Miller. She was the caboose of the family, younger than her siblings Jan, Alan and David by 12 years. She spent her early years in Saginaw, where she got her bachelors degree in Social Work at SVSU. At age 26 she took a leap of faith and embraced adventure, moving to Alaska to stay with her brother, Alan Miller.
She quickly found a job at National Bank of Alaska, where she met the love of her life and husband of 30 years, David Bentley (there were a few chance encounters at the Bird House too). Dave and Brenda moved to Girdwood, Alaska, and were married in 1986. A year later they settled in Anchorage, Alaska, and had two sons, Noah and Nate. Brenda fell in love with Alaska and said she would never leave, though she was quick to book a vacation to Hawaii. She enjoyed ripping around in a zodiac, fishing for halibut and salmon, or digging for clams on the beach. She was always excited to pack up the whole family and parrot, Charlie, for motorhome trips. She and Dave built their toy-hauler trailer by hand and loved to spend their weekends four-wheeling. She retired in the fall of 2015, and couldn't be more thrilled to spend her free time with family and friends.
Brenda was lovingly involved in her church and led BSF Bible study groups for 14 years. She wouldn't let a time go by without sharing God's word. Brenda always had a contagious smile, a genuine warmth about her and a knack for making everyone's day brighter. She was the best Farkle score keeper in town, her recipes were sought by many and shed be quick to let you know when you were out of line.
Oh Bren! Our dearest Brenda passed away peacefully, yet unexpectedly, in her home on Oct. 10, 2016.
She is loved by so many and will be deeply missed. Her legacy continues through her husband, David; sons, Noah and Nate; Nate's wife, Ariel; her brother, Dave Miller; nephew, Tom Coombs; niece, Linda Coombs Mason; and their families.
We will be celebrating her life on Tuesday, Oct. 18, 2016, at 6:30 p.m., at the Chapel by the Sea in Anchorage. In the spirit of celebration, we'd like attendees to wear bright colors. In lieu of flowers, we encourage donations to Love INC of Anchorage, loveincanchorage.org, in her name.
Pulblished Alaska Dispatch News on Oct. 16, 2016
----------------------------------------
We are sad to report that Brenda Bentley passed away this past weekend. Brenda came to work at Alyeska in December of 1990. She later moved on to service providers SAIC and Wipro providing telecom support to Alyeska and TAPS personnel until her retirement in November 2015.
There will be a memorial service on Tuesday, October 18 at 6:30 p.m. at Chapel by the Sea, 1470 Turnagain Bluff Way in Anchorage, followed by a reception. The congregation will provide food; however, anyone is welcome to bring something to share if they wish.
The family has requested that donations be made to Love INC Anchorage, http://www.loveincanchorage.org. Flowers can be sent to the church.
Octber 13 - 2016, Alyeska Corporate Communications