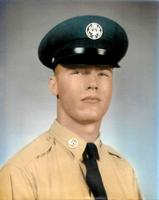 Paul George Turner
September 18, 1939 - June 19, 2013
Paul G. Turner quietly passed away at home on Wednesday, June 19, in Harrington, WA. after a short and courageous battle with cancer.
Born on Sept 18, 1939 he was raised with his twin sister, Paralee, in Harrington, WA. by parents, Harold & Letha Turner. After high school he served for four years of active duty in the Air Force then worked in the oil pipeline industry until his retirement from Alyeska Pipeline Service Co. in Anchorage, AK.
After working and raising his family he and his wife, Gail, traveled extensively across the country in a travel trailer. For several years they worked with Wycliffe Bible Translators, traveling into Mexico to share the Gospel. Paul loved fishing, hunting, camping and working with electronics. He especially enjoyed relaxing with a good book, Starbucks coffee, and his devoted canine companion, Job.
He is survived by his three children, Marcy Tompkins (Anchorage, AK), Wendy Cronrath (Harrington, WA) and Scot Turner (Ocean Shores, WA), nine grandchildren, and three great grandchildren. He was preceded in death by his wife, Gail (Veggeberg), twin sister, Paralee Riley, and grandson, Christopher Turner. With a smile on his face, Dad's parting words were "its time to celebrate!" The rest of us can't wait for that Grand Family Reunion in heaven!
A graveside service will be held on Tuesday, July 2, 2013 at 1:00PM at the Hillcrest Cemetery, Harrington, WA. Please sign the online guestbook at www.stratefuneralhome.com. Strate Funeral Home, Davenport, WA is caring for the family.
Published by Strate Funeral Home, Davenport, WA