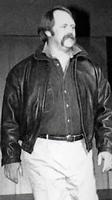 Vernon ''Rusty'' Lee Roy Roberts Jr
September 13, 1955 - August 5, 1998
Valdez resident Vernon ''Rusty'' Lee Roy Roberts Jr., 42, died Aug. 5, 1998, at Mile 73 of the Glenn Highway as the result of a car accident. Visitation was held at Kehl's Forest Lawn Chapel. A graveside service with full military honors was at Fort Richardson National Cemetery. A memorial service was held at Epiphany Lutheran Church in Valdez, of which he was a member.

Mr. Roberts was born Sept. 13, 1955, in Beaumont, Texas. He attended Ball High School in Galveston, Texas, and Prince William Sound Community College in Valdez. He was a Vietnam veteran of the U.S. Air Force from 1973 to 1979.
Mr. Roberts came to Alaska in 1977 and lived in Anchorage until 1986. He then moved to Valdez. He worked for Arco, Alaska Inc. from 1977 to 1986 on the North Slope. He worked for Alyeska Pipeline Service Co. in Valdez from 1986 to 1997, and retired from there. He then started his own company, Alaska Fire Alarm and Control Technologies in Valdez.
Mr. Roberts was a past master of the Blue Lodge Mason; Scottish Rite, 32nd Degree, and member of Al Aska Shrine Temple and Elks Lodge No. 2537 in Valdez. He was past president of Ducks Unlimited and Alyeska Pipeline Club, and started Kids Voting in Valdez. He also coached softball, T-ball and basketball. In 1997, he was in the Valdez drama production of ''Boom Town.''
Mr. Roberts enjoyed watching football, particularly the Dallas Cowboys, square dancing, crossword puzzles and snow machining. His family said: ''Rusty was always willing to help others. He loved to volunteer his help at children's functions and activities. He was a loving and caring father and husband. He will be dearly missed by all.''

Mr. Roberts is survived by his wife, Debra Roberts, three daughters, Jennifer, Kimberly and Lindsey Roberts, all of Valdez; mother, Sylvia Doherty of Texas; father and stepmother, Vernon and Jody Roberts Sr. of Missouri; mother and father-in-law, Gerda and Bob Shower of Anchorage; stepfather, Timothy O'Donohoe of Texas; brothers Mark Roberts of Missouri and Michael Roberts of Washington; sisters Michelle Johnson of Washington and Karen Jaramillo of New Mexico; stepbrother, Dominic Lorang of Seattle; brother-in-law, Herbert Isaac of Anchorage; and many other relatives. In lieu of flowers, memorial contributions may be directed to the Roberts Memorial Fund, c/o National Bank of Alaska, P.O. Box 67, Valdez 99686.
Anchorage Daily News August 9, 1998