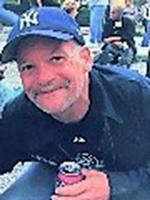 Mark Lawrence Boots
April 23, 1957 - October 11, 2020
Mark Lawrence Boots died on Oct. 11, 2020, in Anchorage, Alaska. Mark was born in Racine, Wis., on April 23, 1957. When he was 4 years old, his family moved to Alaska with five young kids in tow, starting an adventure that continues for the Boots family today. Growing up in Anchorage in a household with seven brothers and a sister, Mark's childhood revolved around the outdoors and sports. He was a talented baseball player and also played hockey. A hard worker, his first job was taking care of park grounds at just 8 years old. As an adult, he worked as a printer in Anchorage for more than 30 years and was well regarded for his skill in the industry.
Mark was the kind of guy who talked and joked with everyone, strangers included. He loved the New York Yankees, the Green Bay Packers, camping and fishing on the Kenai River. His grandchildren were one of the greatest joys of his life and he loved taking them to parks, fishing, attending their sporting events and living in a multi-generational household with them as they got older.
He is survived by his son, Josh Boots (Clarissa); grandchildren, Analeise, Annisa, Jaice, Cyril, Cley and Felipe; his brothers, Mike, Pat, Dan, Tom, Rick and Ed; and sister, Mary; as well as nieces and nephews.
He was preceded in death by his parents, Lawrence and June; his brother, Glenn; and his nephew, David.
His funeral will be held at 2 p.m., on Oct. 29, 2020, at Holy Family Cathedral in Anchorage.
Published in Anchorage Daily News on October 28, 2020