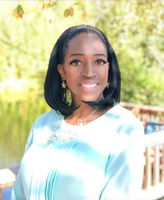 Theresa Phillips Guim
January 3, 1959 - August 28, 2020
Theresa Phillips Guim quietly and peacefully transition on Friday August 28th, 2020 at Providence Medical Center in Anchorage Alaska from sarcoma cancer.

Theresa Phillips was born on January 3rd, 1959 in Brookhaven, Mississippi to the late Mr. and Mrs. Edna and Jimmy Lee Phillips.
Theresa was the fourth born of seven children. The Phillips family moved to Yonkers, NY where Theresa grew up and attend Yonkers High School. After graduating, she married and later joined the Army serving in the Armed Services and traveled both stateside and out of country.
Theresa grew up in the Church of God in Christ at the House of Prayer church in Yonkers, NY. She served in the ministry of music at the early age of 12yrs and throughout her life, this was her gift from God and she was a good and faithful servant.
Theresa was a Godly woman, a woman of virtue and strength. She had a giving heart that was intentional in seeking out ways to meet the needs of people and share Christ with others. She served in every church she was a member of, in various positions including but not limited to: Sunday School teacher, musician, singer, play director, youth leader, Cold Weather Shelter ministry and prayer warrior to name a few.
She was a daughter, sister to six siblings, a wife, mother to 5 children and grandmother (Nanny) to 11 grandchildren.
She was a friend to many, a comfort to the hurting and lost, and provided wise and Godly counsel to those she encountered.
Theresa was very outgoing, adventurous, solution driven and a peacemaker. Her achievements were a breath of a reflection of her character; she gave her heart in whatever she aspired to do in life. Her many talents and hobbies included but not limited to playing the piano, singing, photography, traveling, interior decorating, advising others, listening to sermons (T.D. Jakes being a favorite), road trips, volunteering, caring for her family, as well as leading and partaking in small groups in her church. She was loving, witty, intelligent, compassionate and served others well, she was a beautiful soul.
Theresa Phillips Guim is preceded in death by parents Edna Phillips Baptist and Elder Jimmy L. Phillips, son Jamie L. Nichols, niece Victoria Phillips, grandparents Mary M. Phillips and David Phillips.
Theresa Phillips Guim leaves to carry on her legacy: daughters, Mia Carson and Samantha Williams and sons: David Nichols, and Michael Guim and all her grandchildren.
She leaves to cherish her memory brothers Ronald Phillips Jimmy Phillips, Victor Phillips, Claiborne Philllips, and sisters Margarett A, Phillips and Yolanda Philips and nieces, nephews, cousins and a host of family and friends as well as sisters and brothers in Christ.
Theresa served and loved the lord. She lived for family, ministry and music and mirrored a life to others how to best love life and live for God.
Provided by her family
-------------------------
Theresa was the Director of Human Resources at Alyeska. She had a bachelor's degree in business administration, human resource management from Wayland Baptist University, along with a UCLA Executive Human Resources Program Certification.
Larry Motschenbacher