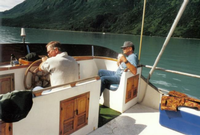 David Mittlestadt
November, 1945 - April 7, 2021
Our youngest son, Scott, wrote the following about his brother and Dad. Dave and I first got married in 1961. Both were just babies at the age off 16 & 17. We had two boys in the 18 years we were married. We were divorced for 30 years. We got back together in 2010. David was a perfectionist in every thing he did and he wanted the same of everyone. He was a loving person. He was born in St. Paul. MN in 1945. He loved to hunt and fish and he loved his Harley Davidson. He was a good father, husband and friend. He will be with me forever.
-------------------------------------------------------------------------------------------
When I sat down to write this I had no idea of what to say or where to start. Does anyone? Really? Each of us probably starts thinking about having to do this at some point in our lives but, like other things in life, we tell ourselves that we can deal with it when it comes. I thought the best thing for me to do was start with my earliest memories of my dad, and my family. Sorry upfront for the long and rambling writings about a lifetime of memories.
My earliest memory of my dad was the day he brought a Harley Davidson motorcycle home. I didn't know where it came from but it just appeared one day in the driveway of our home in Knapp, Wisconsin. My brother Dave and I were maybe 4 and 5 years old. We were outside playing like we always were back then. Running around barefoot in the grass of the front yard. I loved the sound of that bike and have loved having them my entire adult life. Dad asked me if I wanted to go for a ride and, of course, I said "yes". He said "don't step there" as he pointed to the exhaust pipe. Mom put the helmet on me and I was ready to ride. I was so excited I promptly stepped up on the exhaust pipe. I think I missed the ride that day.
I remember fishing trips where we traveled from our home in Knapp to lakes in Canada named Penny Lake and Sally Lake. My family (dad, mom, brother Dave, and me) would idle along muddy rut filled roads for hours to get to the lake that had the biggest Lake Trout and Northern Pike. I remember one Pike that I hooked into when I was 6 or 7. Any fish you catch at that age is a large fish. I reeled the Pike up to the edge of the boat with dad repeating "keep the tip up, keep the tip up". The fish was probably 10 or 12 pounds. We'd been catching 20 to 25 pound Pike up until then. Just as my dad leaned over with the net one of those 25 pound Pikes came to the surface and bit my little Pike in half. I'm sure I looked at dad with a look of "what happened?" on my face. He said without hesitation "we have plenty of bait, we don't need that one".
I remember moving from Wisconsin to Alaska 1973. My first airplane ride with my mother and brother. Seeing the Beluga whales out of the window of the airplane. The stewardess explaining to us how to keep from getting air sickness. I remember helping my family build our log home near Palmer. My brother and I were pretty much in charge of peeling the bark off the logs. The four of us living in a camper on the back of my dad's old '68 Dodge 3/4 ton Power Wagon. My mother and brother and I drove from Palmer to Tonsina during a white-out snow storm. The Tonsina Camp was a construction camp along the Trans-Alaska Pipeline. We made it in time to be with dad over the holidays. I remember the manager of the lodge that was closed for the holidays opened the lodge for us to stay. She said "I'll throw something together for dinner". We had medium rare steaks. shrimp scampi. Definitely an unforgettable time.
Over the next several years I remember blips of memories of my dad. I remember my dad fixing the transmission on a truck towing a 40-foot camper trailer on the side of a highway near Reno, Nevada. I was so impressed that he had the ability to fix it, with new parts, right there on the side of the road.
I remember moving back to Wisconsin and building another log home in Knapp. Dave and I were once again on the log peeling crew. This time Dave and I were old enough to help dad a little more building the house. Around the same time frame I remember dad and members of the Mittlestadt and White families, as well as others, working together in Knapp and Elmwood on the Championship Rope Pulling Team.
After a few years in the Army I married Laura Marr. I missed what Alaska had to offer so I talked Laura into moving to Valdez, Alaska. I worked for Alyeska Pipeline Company at the same location where dad worked. We shared many work related stories and ideas. Most things we agreed on but a few we didn't. Over the next 25 years or so we shared the birth of my sons, Joshua and Justin. We shared Moose and Bear hunting trips. Deer hunting on the islands in Prince William Sound that included the 1st through the 7th Annual Intergalactic Cribbage Championships. We had many Halibut and Salmon fishing trips. One trip that sticks in my mind is when Laura's dad, Marvin Marr, came to Alaska and we took a trip on dad's boat in Port Valdez.
Dad retired from Alyeska around 2002 and left Alaska for Tucson, Arizona. He wanted to build his retirement home near Tucson. From Alaska, via telephone calls and emails, I helped him design the home he would build. In 2005 I bought a Harley to store at his place in Tucson so we could go on motorcycle rides when I would fly in from Alaska. Over the course of the next few years we would ride from Tucson to Rocky Point or Guaymas, Mexico. Our last Mexico ride together was to Rocky Point in 2009. We left his place on a 100+ degree day and arrived in Rocky Point as the sun was setting. We were very thirsty when we got there and did our best George Thorogood impersonation (one bourbon, one scotch and one beer) at the first watering hole we could find. We had an outdoor bar under the palm trees with our own bartender. The place was empty, except for us. Around 2:00 am I asked him "If you could sit and have a drink with anyone right now, who would it be"? He said "my dad". That moment has been with me ever since.
This is about the point in my life where I sat down and wrote something I call "The 100 Story". I've shared it with hundreds of people on my project teams over the years. I truly believe this story helps people to understand………people.
I remember a time when I heard that dad just had surgery to remove bone spurs in his foot. He was at his home in Tucson and said he was having trouble getting around. He would never ask for help. I was working in Valdez so I got on the phone and ordered a burger and a bottle of Jack from a restaurant near his house named Frank's Sports Grill and Bar. I asked them if they could deliver an order to his house, knock on the door and take it in for him. Reluctantly, they agreed. We had a good conversation after that one.
Everyday life may seem to get in the way of creating new memories with family and the ones you love. Sometimes our paths diverge and sometimes our paths cross. I'm grateful for the times I've had with my dad, my brother, and my entire family. After losing my brother a few weeks ago and now my father, of course I think back of times where we may have spent more time together. I will always know that God is in our lives and I will see my father and my brother again.
Dad's favorite sayings - "Don't worry about a thing and nothing will be alright". Whenever you'd show up in a new shirt he'd say "Nice shirt. Couldn't you find one that fit?"
Favorite things - riding motorcycles, reloading ammunition, a quiet time on the patio, a good whiskey and cigar, working on the next little project in his shop. Dad enjoyed long range shooting. He had his Springfield M1A .308 made for long range. I had my Remington 700 SPS .308 converted to a long range target rifle. I qualified as an Expert Marksman in the Army. I never out shot him, from any distance.
Least favorite things - people that are constantly on cell phones, tardiness, laziness, disrespect and people he referred to as CCS's (You'll need to check with me on this one).
One of my dad's favorite musicians was Johnny Cash. This ones for you, dad. I've always loved you and will miss you more than these simple words can ever say.
Johnny Cash - Meet Me in Heaven
We've seen the secret things revealed by God
And we heard what the angels had to say
Should you go first or if you follow me
Will you meet me in Heaven someday
This is our last ride to Rocky Point, Mexico in 2009. We always stayed at the Vina Del Mar on the south end of town. It was nothing special but it was a place where we felt comfortable.
My dad and mom never had too much when I was growing up but, when we were all together, it felt like we had all that we needed. I feel I've missed several years of my mom, my dad, and my brothers lives. I feel that I've missed several years of my son's life and he is only 24 years old now. I have looked in the mirror and discovered who can change that feeling. Laura, Justin and I are living our lives a lot closer to each other these days. I know it's not possible to go back and change things from the past but I am certainly trying to do things right in the present.
I love my family, from fifty plus years ago all the way through today. You are all in my prayers every night and always have been.
-----------------------------------------------------------
FYI, the photo is Dave Mittlestadt (left) with Marvin Gene Marr on the fly-bridge of Dave's boat in Valdez in mid-summer 1977,
These are from his wife and son Scott.
Larry