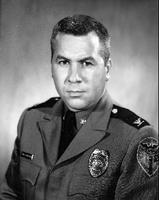 James P. "Pat" Wellington Sr.
June 1, 1934 - May 27, 2021
James P. "Pat" Wellington, age 86, passed away peacefully on May 27, 2021, at his home in Vancouver, Wash., in the company of his family. Pat was born on June 1, 1934, in Ketchikan, Alaska, to James M. and Celia E. Wellington (nee Tuttle). He graduated from Douglas High School, where he was a member of the basketball team which won the Southeast Alaska championship. He married Dorothy J. Moore in 1958, and they had four children.
After a term in the U.S. Army, Pat began a long career in law enforcement beginning as a Seward city policeman and Deputy U.S. Marshall. He was a graduate of the FBI National Academy. He went on to become Juneau Chief of Police, Deputy Commissioner of Public Safety, Commissioner of Public Safety and Director of the Alaska State Troopers. After retirement from law enforcement, he became head of security of the trans-Alaska pipeline and Valdez oil terminal. Pat also served as chair of State of Alaska Retirement Board and Trustee on the Alaska State Pension Board.
He also had served as Assistant Fire Chief for the Douglas Volunteer Fire Department, Vice Chairman of the Juneau Search and Rescue Council, District Chair of the Employers in Support of the Guard and Reserve and member of the National Defense Executive Reserve for the U.S. Department of Energy.
Pat eventually settled in Utopia, Texas, where he made many friends and graciously hosted family and visitors. He remained active in the Fraternal Order of the Alaska State Troopers and the Anchorage State Trooper Museum. To be closer to family, Pat and Dorothy left Utopia after many good years, and moved to Prineville, Ore., and finally Vancouver.
Pat was preceded in death by wife, Dorothy; son, Douglas; and granddaughter, Rosalind. He is survived by his beloved sister, Edith of Juneau; children, James Jr., Michael and Paula; daughter-in-law, Dawn; 10 grandchildren; seven great-grandchildren, so far; and many fine friends.
Published in Anchorage Daily News on July 4, 2021
Cascadia Cremation and Burial Services, Vancouver, WA