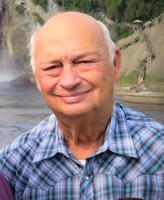 Warren L Krotke
June 16, 1941 - June 24, 2021
Warren L. Krotke passed away on June 24, 2021, in Gold Beach, Ore. He was the son of Walter and Yvonne Krotke. Born in Reno, Nev., he spent 64 years living in Alaska. Having a long lineage in the state, Warren was able to traverse the majority of the Last Frontier during his lifetime. Warren was raised in Anchorage and graduated from Anchorage High School. During the summer, he spent time in Nome with his grandparents, Walter and Mary Erickson, who operated a placer mining company. Warren served in the U.S. Navy and was a veteran of the Vietnam War, serving on the USS Philip. He met his wife, Gail, while stationed at Centerville, Calif. They were married for 55 years.
After returning to Alaska, and like most of his family, he dedicated his life to building the 49th state. As a Right-of-Way Agent for Land-Field Services, Warren assisted in obtaining the right-of-way rights for the trans-Alaska oil pipeline. He fished Resurrection Bay with his father and mother, and later shared this hobby with his wife and children. Warren was a pilot, an avid fisherman, enjoyed boating with family in Seward and sharing a good joke. In retirement, he lived in Globe, Ariz., and made numerous friends, before settling in the coastal community of Gold Beach. He enjoyed many hobbies in retirement, including rock hunting, astronomy, collecting western ephemera and attending his local church.
Warren is survived by his wife, Gail Krotke; daughter, Kathleen Krotke; son and daughter-in-law, Drs. Karl and Amanda Krotke-Crandall; sister and brother-in-law, Sandra and Robert Frenz; aunt, Barbara Jordan; and numerous other extended family members.
Warren requested no services. The family asks that donations be sent to the Anchorage Lutheran Church Organ Maintenance fund.