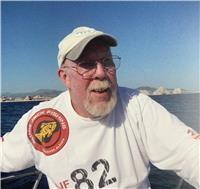 James Wesley Drath
March 9, 1944 - August 8, 2021
Kenai resident, James Wesley Drath, known as Jim, Big Jim, and Papa passed July 10, 2021 at the age of 77 after a hard fought battle with cancer.

A memorial service will be held at 4:00pm, Sunday, August 8, 2021 at Kenai New Life Assembly of God – 209 Princess Street – Kenai, Alaska.
Jim was born March 9, 1944 in Visalia, California to Ralph and Helen Drath. He met his wife, Shirie, of 57 years, when he was the Program Director for the Visalia, CA YMCA. Shirie was hired to teach swimming, and they fell in love during the summer of 1962. He left the YMCA to become a probation officer. Corrections led him to become a police officer for the Visalia Police Department moving up to the role of Sergeant with a Master's Degree in Criminal Counseling. In the summer of 1982, Jim took his family north to Alaska on a 2-month family camping trip. Life was simple in a 12x12 tent which moved from one body of water to another. A 13' Klamath boat was atop the 1979 van, and the family would fish for dinner. Their stay on the Kenai River at Porter's Campground was scheduled for 5 days on the itinerary, but they were there for 18 days! The family returned to California with the will to move to Alaska. A 3-page plan of how they could return to Alaska was completed. They headed back to The Last Frontier in the same van one year later, with 2 kids, and no jobs. The family settled in Wasilla, Alaska. Within 30 days, Jim landed a security job with American Guard and Alert for the Alaska Pipeline. Those Jim supervised had the highest regard for him and how he treated them as genuine people. Following retirement, Big Jim guided 20 years on the Kenai River for Jimmie Jack Fishing. He and Shirie lived in their Hacienda at Riverbend Resort. He attended Kenai New Life Assembly of God. Shirie and Jim traveled and played cribbage all over the world! Jim was an avid reader, and loved fishing in Alaska and Mexico. Jim always just wanted to be with his family, and his campfire stories are legendary. He left a lasting impact on those who knew him. He truly cherished all of his friends and family. Jim never met a stranger.
Jim is survived by his wife, Shirie Sue; his children, Jimmie Jack (Rosy) Drath, Julie Anne Garden (Chris); his grandchildren, Kendall, Eston, Vin, Billy Jack, Enzo, and Wesley (his namesake); his sibling Richard J. Drath (Alan), and extended family.
Published in Peninsula Clarion on Aug. 3, 2021.