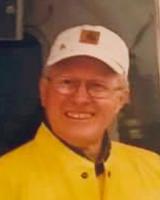 Norman M. Coon
August 12, 1936 - February 12, 2021
He was born August 12, 1936 in Linton, North Dakota, the son of Clifford and Lily (Nelson) Coon.
He married Brenda L. Davis on July 8, 1982 in Delta Junction, Alaska.
In his early years, Norman moved with his parents and siblings from North Dakota to Washington State. His father was a home builder and his mother was employed by Boeing Corporation. Later, the family moved to Libby, Montana where he attended high school and then served in the United States Marine Corps. He graduated from Montana University with a degree in Forestry. Later, he moved to Delta Junction, Alaska where he was employed as Operation Technician for Alyeska Pipeline Company for many years. He loved building homes of which he and Brenda lived in nine of his custom built homes during their 38 years of marriage. Norman loved fishing for halibut and salmon in Alaska and enjoyed flying his airplane. He was a member of the Kiwanis Club of Delta Junction, Alaska.
Survivors include his loving wife, Brenda L. Coon, Wautoma; four children, Paula D. (Mike) Eckert, Swans Hill, Alberta, Canada, Barbara S. Coon, Anchorage, Alaska, Daniel (Amber) Coon, Knoxville, Tennessee and Clifford Coon, North Pole, Alaska; three stepchildren, Carmen L. (Robert) Shea, Aurora, Illinois, Jennifer D. (Shane) Barnes, Danbury, New Hampshire, and Justin A. (Jessica) Dorshorst, Delta Junction, Alaska; 27 grand- children; two great grandchildren; two sisters-in-law, Joann Coon and Myrna L. Boswell. He is further survived by nieces, nephews, other relatives and friends. He was preceded in death by his parents; two brothers, Clifford and Lyle; and by one sister, Hazel Garnett.
Memorial Services will be held in Libby, Montana at a later date and will be announced. Interment will be at City of Libby Cemetery. The Leikness Funeral Home of Wautoma, WI is assisting the family with arrangements.
Published by Leikness Funeral Home
Published in Western News on Thurday, February 23, 2021