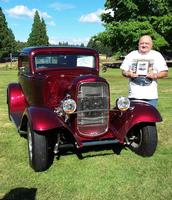 Dick Dore
November 9. 1945 - August 25, 2021
My name is Helen, and my brother was Dick Dore. On behalf of my siblings and myself I'm sorry to say our sweet brother passed this morning of congestive heart disease at 6am in Sacred Heart Hospital, Spokane WA.
He was admitted to the hospital Sunday morning on August 15th with chest pains and couldn't breath. He had had a mild heart attack and remained in the hospital until today August 25th. He had gone through a battery of test through the week and coded Sunday evening August 22nd. He spent the rest of his time in the ICU until his passing today August 25th.
Our brother loved life, loved his family and friends with Dick friends were family it's the way our family rolls. You all are a part of us because you were a part of Dick's life. Dick served in the U.S. Air Force in England. He started building his lifelong dream car in Williston, ND, and completed it in Arizona. The beautiful car was named Lucille and he was very proud of her.
Love to each and everyone of you! Remember "good, good, good, good" or "yah". You can take the boy out of North Dakota but you can't take North Dakota out of the boy!
If you were Dick's friend you are my friend. Dick's family and friends will be coming together to share his stories on:
October 9th, 11:00 am, at Holy Cross Cemetery, 7200 N Wall St., Spokane, WA. 99208.
In honor of Dick we are welcoming everyone to wear Carhartt shirts.
If there are any of you who would like to share a story, an "appropriate" story I could repeat at his service, pleaes email me.
Or if you have pictures of Dick, or yourself with Dick, please email copies of the pictures to me by Wednesday.
You may contact me, Dick's sister, Helen, at helenjbradshaw@gmail.com.
If you would like to talk, my number is (509) 786-8763. .
Thank you.
Love,
Helen