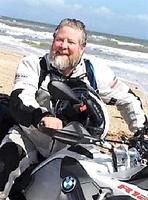 Dean Michael O'Neal
June 23, 1966 - September 2021
Our much loved friend, who was the first to celebrate our triumphs or leap to our rescue, passed away after a hard fought battle with cancer. Dean will be remembered as a father, husband, Army and Navy veteran, Alyeska mechanic and volunteer fire fighter, bull rider, outdoorsman, long-distance motorcycle rider, harmonica player and all-around fine man. He had the uncanny ability to make a recalcitrant engine spring to life simply by standing near it. The loss of his father early in high school left Dean as the primary support for his mother and two younger sisters, whom he loved dearly, and galvanized his unrelenting desire to be his very best.
Dean was a classic example of the American Dream: from a child raised without running water to a brilliant Alyeska Pipeline mechanic who lived his dream of riding his beloved BMW motorcycle across the country. If you lived near Dean, worked with him or joined him on his continental motorcycle rides, then you were more than likely a recipient of his generous nature and wicked sense of humor. Dean had the well-earned respect of all who worked, lived or played beside him.
Dean remained in contact with his longtime, hometown friends who will fondly remember all their undiscovered misdemeanors. He leaves behind a long list of best friends, confidants, co-workers and family, including his wife, Laura Fitzgerald; son, Dustin O'Neal-Middleton; stepchildren, Regan and Nolan Fitzgerald; mother, Kathryn O'Neal; two sisters, Shannon Ellison and Farrah Billings; as well as his new granddaughter, Alani O'Neal. Not to be left out are his lifetime partners in crime, Brian, Mike, Pierre, Phil, Bob, Todd, Nate, Eric and Zane; and his Alyeska and Echo Creek families.